'The Hateful Eight' Featurette Offers A Brief Lesson On Roadshows And Ultra Panavision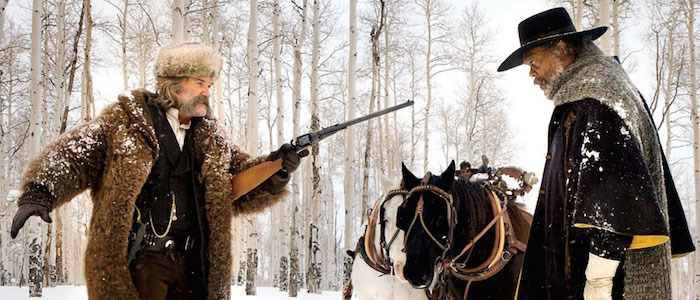 Much has been written about the the upcoming theatrical roll-out of The Hateful Eight. Before it opens in every multiplex in the world, Quentin Tarantino's western thriller will have a "roadshow" release, hitting select theaters around the country to screen in 70mm projection. This roadshow version, in addition to being Tarantino's recommended way of seeing the film, will also have additional footage, including a musical overture and intermission.
In other words, it's an old school way to screen a brand new movie.
Of course, some audiences may not be aware of what's special about this kind of presentation, or why it's such a big deal that The Hateful Eight was shot on 65mm film using Ultra Panavision lenses. That's why this featurette exists. Even seasoned film buffs will get a kick out of watching Tarantino and his crew lose their minds over this glorious tech.
Hosted by the great Samuel L. Jackson (who is hamming it up and having a grand ol' time), this seven-minute video gives a whirlwind history of roadshow presentations and Ultra Panavision films before diving into the present day. The talking heads include the film's cast and the crew, with the former discussing how exciting it to be filmed in such a classical format and the latter geeking out over working with the same camera lenses that shot some of the biggest movies of all time. Cinematographer Robert Richardson is as level-headed as Tarantino is enthusiastic.
The Hateful Eight featurette also shows off some of the test footage that was shot to convince the Powers That Be that expensive 65mm film being exposed through lenses that literally haven't been used in decades was the only way to go. Anyone who was fortunate enough to see 70mm projections of The Master or Interstellar in the past few years know just how intoxicating celluloid can be – now imagine that format being shot with lenses that provide the widest images in cinematic history. The Hateful Eight will only be the eleventh film to utilize these jaw-dropping lenses, which have literally been sitting in storage since the '60s.
What's strange about all of this is how Tarantino is using the most epic camera lenses ever constructed to shoot a movie about eight murderous people trapped in a single building. The fact that a western chamber piece was shot in Ultra Panavision, will project in 70mm, and will roll out as a 182-minute roadshow is our kind of insanity. Whether this movie is great or a debacle (and Tarantino's track record and the trailer doesn't suggest the latter), it's still one of the most interesting movies of the year based on its making alone.
The Hateful Eight opens on December 25, 2015 and will expand in the following weeks.