Clear Eyes, Full Hearts, Can Sing: A 'Friday Night Lights' Musical Is Coming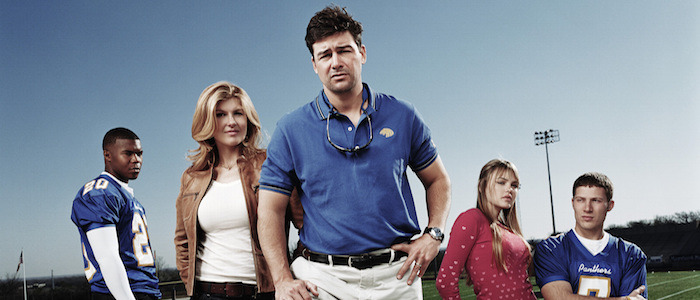 We live in the age of reboots and remixes, where everything that someone loves gets the chance to live on forever. This can be frustrating . How many tributes to Firefly can you people cobble together on YouTube? How many times can Spider-Man get recast before we're simply tired of him?
But we'll expose a very specific bias on this front: Friday Night Lights is one of the best shows of the past decade and just thinking about it fills us with warm, wonderful feelings of hope and pride and community. If someone has to take a beloved television series and transform it into an "unauthorized" musical, then you can do far worse. The songs write themselves – you just know the big Act One closer will be a rousing rendition of "Clear Eyes, Full Hearts, Can't Lose," which will then have a reprisal in the grand finale.
You can find more information on the Friday Night Lights musical after the jump.
The Unauthorized Friday Night Lights Musical is from the same team who produced this year's Unauthorized O.C. Musical and the show will premiere in California sometime next year. The existence of the show was revealed on Twitter:
Every day counts. One night matters. The Unauthorized #FNLMusical is coming to LA in 2016! pic.twitter.com/95ktAow41g

— #FNLMUSICAL (@TheFNLMusical) November 24, 2015
While the likes of Kyle Chandler, Connie Britton, and Taylor Kitsch won't be reprising their roles, one original cast member will take to the stage in a new role. Scott Porter, who played the paralyzed quarterback Jason Street on television, has been cast as Coach Eric Taylor for the stage version. This news was also revealed on Twitter:
The player is now the coach... @nbcfnl's @ScottPorter is Coach Taylor in the Unauthorized #FNLMusical! pic.twitter.com/V0p5eLOUCo

— #FNLMUSICAL (@TheFNLMusical) November 24, 2015
While the mere existence of a Friday Night Lights stage adaptation sounds like a joke, this show is actually the perfect foundation upon which to construct a musical. The series was never really about high school football – it was about life in a small Texas town and how the hopes and dreams, whether they be alive or dashed, of every citizen revolve around those Friday night games. Friday Night Lights was warm and uplifting, tragic and real, funny and beautifully realized. It wore its heart on its sleeve but it also never told a lie. There is no sentiment in this show, even when it's making you ugly-cry. It's so big and open-hearted already that ehe characters might as well be breaking into song.
Plus, the opportunities for Coach Taylor songs are endless! Angry songs as he grills his team at practice! Funny songs as he gets in a referee's face during a game! Powerful ballads as he inspires his boys in the locker room! Porter of all people knows that Eric Taylor is the ideal TV dad for a generation of people, so he better step up his game.
Since we probably won't hear too much from this musical until it debuts next year, you should spend the next few weeks watching (or re-watching) Friday Night Lights. It's all on Netflix right now and it's just the best thing.