Kevin Bacon Feels 'Tremors' Again With TV Series Revival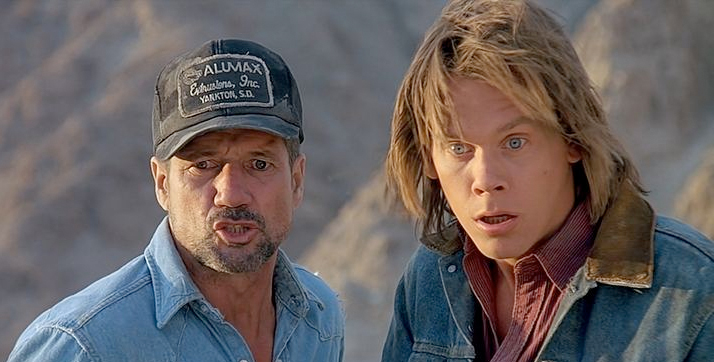 In the past five or six years, Kevin Bacon has made some pretty interesting choices as an actor. He's taken on two extremely different kind of superhero movie with X-Men: First Class and James Gunn's dark indie Super, went back to romantic comedy territory with Crazy Stupid Love, had a misstep with R.I.P.D. (though that wasn't his fault), starred in the fun indie Cop Car, and led the chilling TV series The Following, which eventually got too crazy for its own good.
But now Bacon is ready to return to his roots as the star and executive producer of a new Tremors TV series that is currently in the works from Universal Cable Productions and Blumhouse Productions.
Entertainment Weekly has the news on the Tremors TV series, based on the 1990 cult classic sci-fi/horror flick that sees residents of a small, isolated desert town fending off giant killer worms who move underground and are attracted to any movement above ground. Bacon starred in the original movie along with Fred Ward, Finn Carter, Michael Gross and even Reba McEntire, so it sounds like this will be a sequel series.
However, at this point we don't know how the new Tremors TV series will treat the rest of the franchise. Following the first Tremors, there were four direct-to-video sequel, and there was even another attempt at a TV series that lasted 13 episodes on the SciFi Channel (before they changed to SyFy) in 2003. My bet would be that they would ignore most of what happened in those movies and series, but we'll have to wait and see.
This news comes months after Bacon told British newspaper Metro (via IGN), "I'd love to do something else with Tremors and revisit the character 25 years later." Did he already know this project was in development at the time? Or did this come about simply because he expressed interest in it? I'm sure we'll find out once the show actually gets off the ground and Bacon has to put on his promotional press tour hat. I just hope he doesn't show up for the pilot and then get killed off. That would be a cruel twist.
Andrew Miller (The Secret Circle) will script the series adaptation, but as of right now the show doesn't have a network home. But reportedly there are multiple bidders interested in snagging the project, so it should have no problem getting picked up. Stay tuned for more.