The Best Shows And Movies Coming To Netflix In December 2015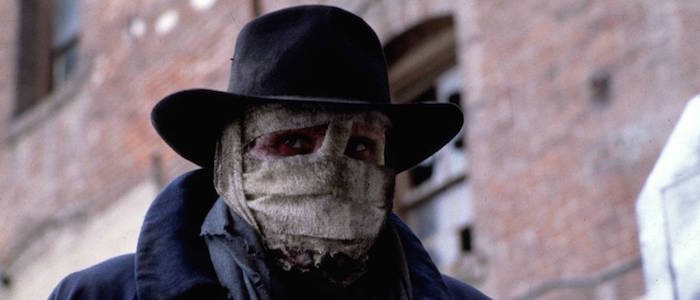 This December, Netflix is gifting its subscribers with a whole bunch of cool movies and TV shows. Just in time for the holidays: Sam Raimi's first superhero movie, one of the most critically acclaimed independent films of 2015, a Christmas variety special starring Bill Murray, and another dose of the darkest science fiction show to ever emerge from England.
Read on for our picks for the best shows and movies coming to Netflix this December (as well as a complete list of every new title).
Darkman (December 1)
12 years before he made Spider-Man, director Sam Raimi tried to get a film version of The Shadow off the ground. When that failed, he went out and made his own superhero: Darkman. Played by the great Liam Neeson, this hideously scarred, half-insane master of disguise feels like he stepped right out of an old pulp novel or a '60s comic book – he feels legit. Fans of the Raimi's later movies will note that that Darkman is very much a test run for the blockbusters he'd crank out in the '00s. Tonally, this is the bizarre, R-rated cousin to his Spider-Man trilogy. It just so happens to have been made while Raimi was still deep in his Evil Dead phase.
Ray (December 1)
If you've seen one musician biopic, you've seen 95% of all musician biopics. However, Taylor Hackford's Ray is one of the better examples of this tried and true genre. Jamie Foxx won an Oscar for playing singer Ray Charles and it is a very good performance, coming from an era where most audiences didn't think he had this kind of a dramatic work in him. As a movie, Ray is perfectly entertaining and totally fine, but as the turning point in Foxx's career, it's especially noteworthy.
Stir of Echoes (December 1)
It may not break any new ground, but David Koepp's Stir of Echoes is meat-and-potatoes genre filmmaking that is perfect viewing for a cold, winter's night. Although overshadowed by the (far superior) The Sixth Sense, the film is a rock-solid supernatural thriller with just enough scares, twists, and turns to be worthy of your valuable time. It helps that Kevin Bacon is the lead here, lending gravity to all of the ghostly nonsense surrounding him. Sometimes, a well-told, minor ghost story is just what you need and this one fits the bill nicely.
Tangerine (December 2)
When Tangerine exploded onto the festival scene earlier this year, its calling card was the fact that it was shot on an iPhone. However, audiences soon realized that this movie is far more than a low-budget gimmick – this hilarious, character-driven, and (literally and figuratively) colorful film is something special. Now that it's been nominated for four Independent Spirit Awards, Netflix will let you see what all the fuss is about.
A Very Murray Christmas (December 4)
Netflix could have just thrown together a slapdash holiday variety show hosted by Bill Murray and we would have found time to watch it. Instead, this is the next project from the always-interesting Sofia Coppola and it looks like a quirky, low-key joy. This streaming-only special follows Murray, playing himself, as a winter storm forces the cancellation of the Christmas special he's supposed to host. With nothing better to do, he wanders around the hotel, drinks a lot, hangs out with his friends, and has what looks to be a wry, melancholic Christmas Eve. We're in.
Phoenix (December 8)
Despite racking up accolades from critics around the world during its time on the film festival circuit, Christian Petzold's thriller Phoenix never quite took off in theatrical release. Now, everyone that missed this Hitchcock-tinged psychological drama will get a chance to see what all the fuss was about. Set right after the conclusion of World War II, Phoenix follows a concentration camp survivor whose face has been altered after surviving a horrific injury. When her husband, who may or may have sold her out to the Nazis, mistakes her a stranger who just bears a striking resemblance to his "dead" wife, things start to get complicated.
Black Mirror: White Christmas (December 25)
Big things are in the near future for Black Mirror, Charlie Brooker's acclaimed science fiction anthology series. Its first two seasons premiered on Channel 4 in the U.K., but it wasn't until the show made its way to Netflix that it truly exploded in popularity. These tales of grisly horror and razor-sharp satire, all connected by the theme of technology dominating our everyday lives, feel like The Twilight Zone for the digital age. Netflix has already stepped in and ordered a third season (why deal with the middleman?), but last year's Christmas special, a feature-length episode titled "White Christmas" starring Jon Hamm, will arrive just in time for, well, Christmas. Like every Black Mirror episode, this will probably ruin your day (in the best possible way), so maybe you should wait until the holiday season has passed before diving in.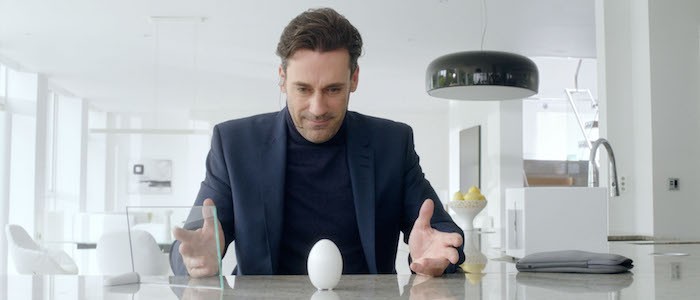 Available December 1:
#DeathToSelfie (2014)
30 for 30: Chasing Tyson (2015)
50 Shades of THEY (Season 1)
A Christmas Star (2015)
A Genius Leaves the Hood: The Unauthorized Story of Jay Z (2014)
Amnesiac (2015)
Broadchurch (Season 2)
CBGB (2013)
Christmas Wedding Baby (2014)
The Chronicles of Riddick: Dark Fury (2004)
Cradle 2 the Grave (2003)
Darkman (1990)
Detectorists (Season 1)
I'm Brent Morin
Jenny's Wedding (2015)
Las mágicas historias de Plim Plim (Season 1)
Ray (2004)
Real Rob (Season 1)
See You In Valhalla (2015)
Sensitive Skin (Season 1)
Starting Over (Season 1)
Stir of Echoes (1999)
Stir of Echoes: The Homecoming (2007)
That Touch of Mink (1962)
Tyke: Elephant Outlaw
Winning Life's Battles: Season 1
Available December 2
Stations of the Cross (2014)
Tangerine (2015)
Available December 3
Matt Shepard Is a Friend of Mine (2015)
Available December 4
A Very Murray Christmas (2015)
Comedy Bang! Bang! (Season 4)
Available December 5
A Case of You (2013)
Dinosaur 13 (2014)
Inside Man (Season 3)
Available December 8
One & Two (2015)
Phoenix (2014)
Xenia (2014)
Available December 9
Phineas and Ferb (Season 4)
Trailer Park Boys: Drunk, High And Unemployed Live In Austin (2015)
Available December 11
The Adventures of Puss in Boots (Season 2)
The Ridiculous 6 (2015)
Available December 15
Drown (2014)
Hart of Dixie (Season 4)
High Profits (Season 1)
Time Out of Mind (2014)
Available December 16
Fresh Dressed (2015)
Helix: Season 2
Available December 18
F is for Family (Season 1)
Glitter Force (Season 1)
Making A Murderer (Season 1)
Mike Epps: Don't Take It Personal
Available December 20
Leo the Lion (2013)
Magic Snowflake (2013)
Santa's Apprentice (2010)
Available December 21
El Señor de los Cielos (Season 3)
Available December 24
Dawn of the Croods (Season 1)
Available December 25
Black Mirror "White Christmas" Episode
Available December 28
Maron: Season 3
My Little Pony: Friendship Is Magic (Season 5)
Available December 31
Battle Creek (Season 1)
Manhattan Romance (2014)
Violetta (Season 3)
Nurse Jackie (Seasons 1-7)