2016 Independent Spirit Awards Nominations: 'Carol,' 'Beasts Of No Nation,' 'Spotlight,' And 'Anomalisa' Lead The Pack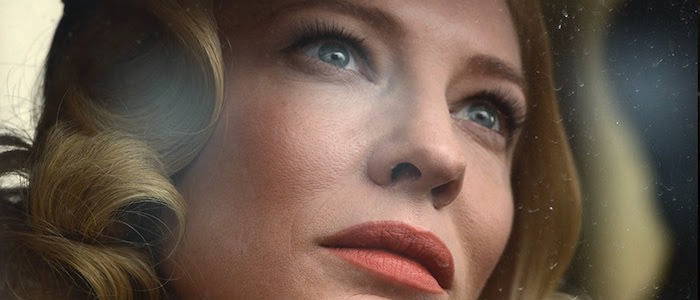 The Independent Spirit Awards have always been Oscar's younger, hipper cousin, casting a light on films that don't always have a shot at the more prestigious end-of-the-year movie awards. This year's nominations may be one of the strongest line-ups in a long time. There are the films everyone excepted to make a strong showing here, like Carol and Spotlight, but there are also plenty of pleasant surprises, including nominations for Tangerine, It Follows, and Bone Tomahawk. And that's before you dive into the more niche awards, where gems like Son of Saul and Krisha snagged nominations.
Find the complete list of 2016 Independent Spirit Awards nominations after the jump.
Todd Haynes' Carol helped lead the pack with six nominations, with stars Cate Blanchett and Rooney Mara both nabbing nods for Best Female Lead. The critically lauded LGBT romance also scored nominations for Best Feature, Best Director, Best Screenplay, and Best Cinematography.
The only other film to receive six nominations was Cary Joji Fukunaga's Beast of No Nation, which is up for Best Feature, Best Director, Best Actor, Best Supporting Actor, Best Cinematography, and Best Editing. Idris Elba getting a nod was a given, but Abraham Attah also receiving recognition is a reason to cheer. Will this pave the road to a Netflix-distributed movie making a serious play at the Oscars? Maybe. What a weird world we live in.
Tom McCarthy's Spotlight received four nominations, including Best Feature, Best Director, Best Screenplay and Best Editing. The lack of any acting nods stings until you realize it will receive the Robert Altman Award for the entire ensemble cast. Charlie Kaufman and Duke Johnson's truly brilliant stop-motion drama Anomalisa also received four nods: Best Feature, Best Director, Best Screenplay, and Best Supporting Female for Jennifer Jason Leigh's moving performance.
The most pleasant surprise in the "four nominations club" is Tangerine, which walked away with nods for Best Feature, Best Director, Best Actress and Best Supporting Actress. Not bad for a movie that was shot on an iPhone. Hopefully, the imitators will concentrate on the film's infectious energy and wonderful characters, not the fact that it was shot on a consumer smartphone.
Other deserving films received recognition, including David Robert Mitchell's It Follows, which scored nods for Best Director, Best Cinematography, and Best Editing. Considering how most awards completely ignore horror movies, this is a pleasant surprise. Speaking of horror movies receiving welcome nominations, Bone Tomahawk was nominated for Best Screenplay and Best Supporting Actor (huzzah for the great Richard Jenkins!), quite a feat for a bloody cannibal western.
The 2016 Independent Spirit Awards will air on February 27. Here is the complete list of nominees:
BEST FEATURE
Anomalisa
Beasts of No Nation
Carol
Spotlight
Tangerine
BEST DIRECTOR
Cary Joji Fukunaga – Beasts of No Nation
Charlie Kaufman & Duke Johnson – Anomalisa
David Robert Mitchell – It Follows
Sean Baker – Tangerine
Todd Haynes – Carol
Tom McCarthy – Spotlight
BEST FEMALE LEAD
Bel Powley – The Diary of a Teenage Girl
Brie Larson – Room
Cate Blanchett – Carol
Kitana Kiki Rodriguez – Tangerine
Rooney Mara – Carol
BEST MALE LEAD
Abraham Attah – Beasts of No Nation
Ben Mendelsohn – Mississippi Grind
Christopher Abbott – James White
Jason Segel – The End of the Tour
Koudous Seihon – Mediterranea
BEST SUPPORTING FEMALE
Cynthia Nixon – James White
Jennifer Jason Leigh – Anomalisa
Marin Ireland – Glass Chin
Mya Taylor – Tangerine
Robin Bartlett – H.
BEST SUPPORTING MALE
Idris Elba – Beasts of No Nation
Kevin Corrigan – Results
Michael Shannon – 99 Homes
Paul Dano – Love & Mercy
Richard Jenkins – Bone Tomahawk
BEST SCREENPLAY
Anomalisa
Bone Tomahawk
Carol
End of the Tour
Spotlight
BEST DOCUMENTARY
Best of Enemies
Heart of a Dog
Look of Silence
Meru
Russian Woodpecker
(T)error
BEST FIRST FEATURE
The Diary of a Teenage Girl
James White
Manos Sucas
Mediterranea
Songs My Brothers Taught Me
BEST EDITING
Beasts of No Nation
Heaven Knows What
It Follows
Room
Spotlight
BEST CINEMATOGRAPHY
Beasts of No Nation
Carol
It Follows
Meadowland
Songs My Brothers Taught Me
BEST INTERNATIONAL FILM
Embrace of the Serpent
Girlhood
Mustang
A Pigeon Sat on a Branch Reflecting on Existence
Son of Saul
JOHN CASSAVETTES AWARD (Best Feature Made For Under $5,000)
Advantageous
Christmas, Again
Heaven Knows What
Krisha
Out of My Hand
ROBERT ALTMAN AWARD (Best Ensemble)
Spotlight
KIEHL'S SOMEONE TO WATCH AWARD
Chloe Zhoa
Felix Thompson
Robert Machoian & Rodrigo Ojeda-Beck