New 'The Big Short' Trailer: It's Time To Kick The Banks In The Teeth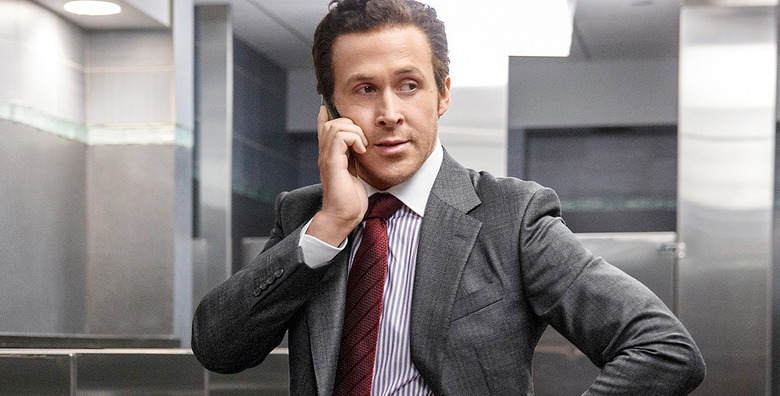 This winter, comedy director Adam McKay (Anchorman: The Legend of Ron Burgundy, Step Brothers) takes the leap to a different genre by directing the financial crisis drama The Big Short. Based on Michael Lewis' book of the same name, the story follows Christian Bale, Steve Carell, Ryan Gosling and Brad Pitt as four men who try to take on the banks before a major collapse in the global economy.
A new The Big Short trailer shows off the star-studded cast, including the impressive supporting players who are bound to make this a major awards contender at the Oscars this season. Watch the new trailer below!
Here's the new The Big Short trailer from Paramount:
Our own Jack Giroux caught The Big Short at AFI Fest earlier this month and gave it quite the glowing review for its seamless blending of drama and comedy. His review says, "The Big Short is a new kind of film from Adam McKay, but it still has his outrageous sense of humor. Parts of the film are more ridiculous than what we see in Step Brothers or Anchorman, and probably because what we're seeing in this film is true and relevant — making the jokes funnier and scarier."
With Melissa Leo, Hamish Linklater, John Magaro, Rafe Spall, Jeremy Strong and Marisa Tomei, this looks like a must-see this winter, even it may end up depressing you by exposing the state of the corrupt banking system and the government that allows it to happen. If you want to know more about The Big Short, check out this recently released featurette going behind the scenes of McKay's latest effort. Otherwise, you can watch the previous trailer for the film right here.
When four outsiders saw what the big banks, media and government refused to, the global collapse of the economy, they had an idea: The Big Short. Their bold investment leads them into the dark underbelly of modern banking where they must question everyone and everything. Based on the true story and best-selling book by Michael Lewis (The Blind Side, Moneyball), and directed by Adam Mckay (Anchorman, Step Brothers) The Big Short stars Christian Bale, Steve Carell, Ryan Gosling and Brad Pitt.
The Big Short opens in limited release starting December 11 and rolls out nationwide starting December 23.