Vin Diesel Announces Another 'Riddick' Sequel And TV Series Spin-Off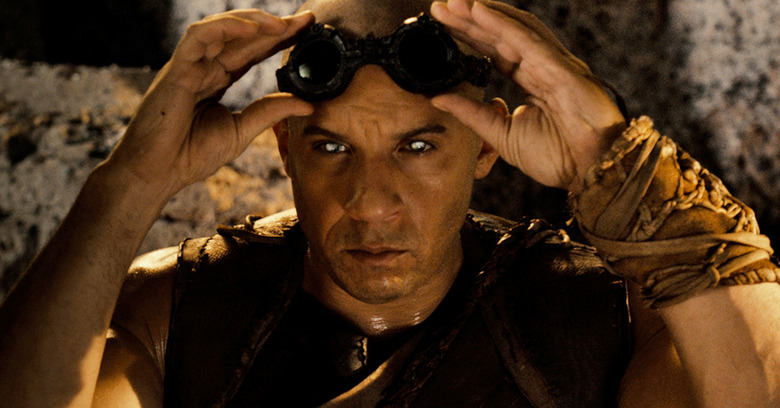 It took a long time for Riddick to make it to the big screen. The sequel that followed Pitch Black and Chronicles of Riddick wasn't exactly a runaway hit, pulling in $98 million worldwide. But it did that on a budget of $38 million, and the sci-fi franchise starring Vin Diesel has quite the cult following that made it the #1 movie on the home video charts when it was released back in January of 2014. That prompted Universal to tell the actor that they wanted to make another sequel, and now that's finally happening.
Diesel just took to Instagram yesterday to post this:
Last night Our company had a party to launch Our TV division. Very exciting. MERC CITY is a show that will follow the Mercs and Bounty Hunters of the Riddick Universe. Next Month, DT begins writing the next Chapter in the Chronicles of Riddick... FURIA. #HappyFurianFriday
A photo posted by Vin Diesel (@vindiesel) on
For those unaware, the "DT" in question is David Twohy, who has written and directed every film in the franchise, and now we know he'll be back for this one. What we don't know is what story this sequel has to tell, though the title might give us a hint. Diesel says the new sequel is called "Furia," though there's a chance he means Furya, which is the name of the planet that Diesel's character and his rare race hail from. But regardless of the spelling, the world is believed to be dead.
Is there a chance that this sequel will see Riddick going back to his home planet? We've yet to spend time on the planet that had nearly all of its inhabitants killed in an effort to squash a prophecy about a male Furyan child who would be born that would bring the downfall of a Necromonger officer named Zhylaw. Therefore, it's probably about time that Riddick made it home, which could actually constitute an interesting sequel.
As for Merc City, I'm not so sure that this spin-off TV series will pan out. Vin Diesel is a big part of the appeal for the Chronicles of Riddick franchise, and I'm not sure a TV series without him in the same universe can pull in a sizeable audience. Still, there is the opportunity to craft some interesting and badass characters as the mercs and bounty hunters, so maybe it could work.
It's pretty impressive that this franchise has been able to last this long, and it's endurance is a testament to both the fans who have stuck with the series and Diesel's passion for the sci-fi action film series.
Anyone out there excited for the Riddick sequel or TV series?