Kenneth Branagh Also Starring In Fox's 'Murder On The Orient Express' Remake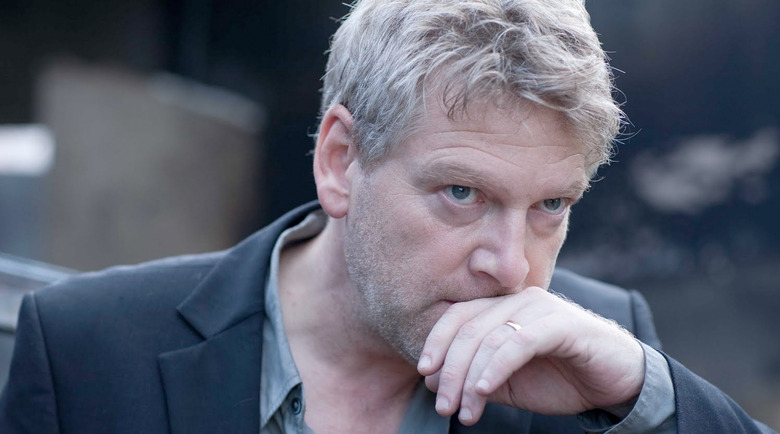 Over the summer we learned that Thor and Jack Ryan: Shadow Recruit director Kenneth Branagh would be at the helm of the Murder on the Orient Express remake, based on Agatha Christie's classic novel of the same name. In addition to also producing the film, he's taking on another job on the production by also snagging the lead role as detective Hercule Poirot as he investigates the murder of an American business tycoon on a train.
Deadline has news of Branagh putting on another hat for this production that counts Ridley Scott, Simon Kinberg (The Martian), and Mark Gordon (Steve Jobs) as producers with a script from Michael Green, who also wrote the forthcoming Blade Runner 2 screenplay.
For those unfamiliar with the story, a train is stranded during a terrible snowstorm when suddenly a fellow passenger is murdered, leaving Detective Poirot (Branagh) to determine who the murderer is, which proves to be difficult when several of the passengers could have had a motive and opportunity to commit the crime.
This remake has been developing for a few years, but with these key pieces in place, it seems to finally be moving forward. And with Branagh taking the lead role, originated by Albert Finney in the 1974 adaptation, the rest of the cast can be rounded up now. The original featured quite an impressive cast with Lauren Bacall, Ingrid Bergman, Jacqueline Bisset, Sean Connery, Anthony Perkins and Vanessa Redgrave as some of the suspects. It remains to be seen if equally as big of names will be brought on board for this version.
Audiences may be more familiar with Branagh's recent blockbuster work for Marvel and Paramount with the Thor and Jack Ryan franchise beginnings, with the latter being a less than stellar attempt to reboot the Tom Clancy character on the big screen, forcing Paramount to take Jack Ryan to TV at Amazon instead. But beyond that, Branagh has also done some stellar Shakespearean adaptations such as Hamlet and Much Ado About Nothing.
But it was Branagh's work on Henry V that earned him Oscar nominations both as a director and a lead actor. In addition, Branagh was also nominated for his supporting turn in My Week with Marilyn and his writing for Hamlet in 1996. The original 1974 adaptation earned several adaptations, including Best Actor for Albert Finney, Best Actress for Ingrid Bergman and Best Adapted Screendplay for Paul Dehn, so maybe this could end up getting Branagh some more Oscar accolades.
For now, the rest of the cast needs to be rounded up and we don't know when this will go in front of cameras, so stay tuned to see how it develops.