First Look At California's Wizarding World Of Harry Potter Has Something For Every Muggle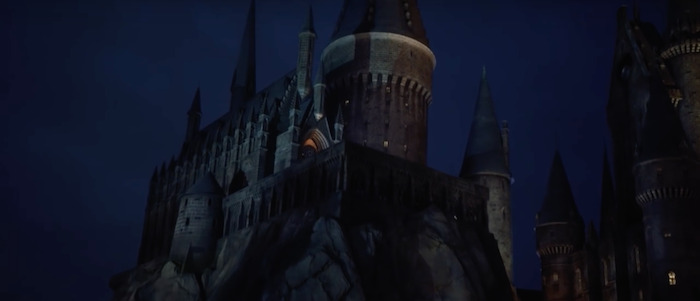 The Wizarding World of Harry Potter at Universal Studios Florida is nothing short of amazing. It's the kind of stunning, next-generation step forward theme park fans hope to see every decade or so. The sense of place, the small Wizarding community of Hogsmeade and the the nearby Hogwarts Castle, is astonishing. The rides, namely Harry Potter and the Forbidden Journey, do things we've never seen done before. It's a triumph of design and execution.
It's also increased attendance at Universal's Florida parks enough to get Disney nervous, so it was inevitable that Universal would eventually bring their Harry Potter attractions to their California location. Why make mountains of gold Galleons on one coast when you can rake in the big bucks on both? Now, nearly four years after it was announced, a new video tour has been released, giving us our first look at the Universal Studios Hollywood version of The Wizarding World of Harry Potter that isn't a gallery of construction site photos.
Check out the new video for the Universal California Harry Potter attractions after the jump.
As you'd expect from a promotional presentation that was made to encourage families to come to a theme park, the video below is about as hokey as you can get. However, it does confirm what we've long suspected: the California edition of Hogsmeade looks like a brick-for-brick recreation of what we've already seen in Florida. But that's okay – why fix what isn't broken, especially when most of the people going to this new area won't be familiar with the original?
We will say this much: The Wizarding World of Harry Potter will never be as empty in real life as it is in that video. Never. There will be lines just to enter the friggin' area on busier days.
The key difference will be the landscape. At Florida's Islands of Adventure, The Wizarding World of Harry Potter was able to sprawl into the landscape. Space is at a premium at the much smaller Universal Studios Hollywood, so layout may be a little different. You can take a virtual tour of the original Florida park below, just in case you want to make notes for a future comparison.
Although it doesn't have an official release date, the California's Wizarding World of Harry Potter will open in spring 2016 (as we first learned back in June). And yes, Universal has already said that they already intend to bring the equally popular Gringotts expansion to the West Coast at some point.