VOTD: Robert Rodriguez's 50-Minute Interview With Sylvester Stallone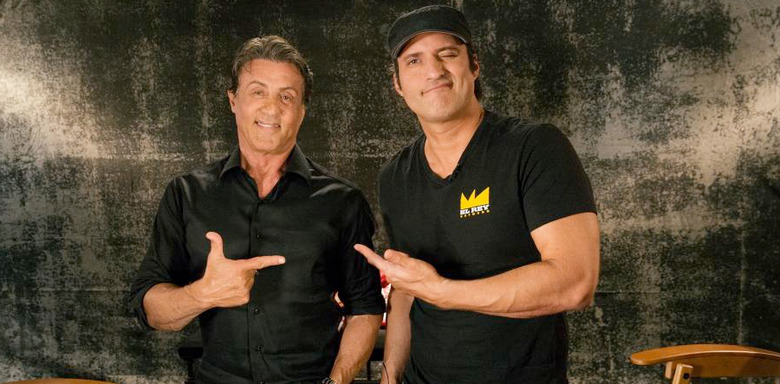 Next week brings Sylvester Stallone back yet again as famed boxer Rocky Balboa. But this time he's a mere supporting player, as the son of Apollo Creed takes the spotlight in a new era for the boxing franchise. Creed sees Michael B. Jordan take the title role of a young up and coming boxer struggling to live up to the legacy of his late father. And he has quite the supporter in his corner with Rocky as his trainer, even if it looks like he might be on his way out.
Now you can spend some time with Stallone as he sits down for a 50-minute discussion with filmmaker Robert Rodriguez for an episode of The Director's Chair on The El Rey Network. It's a fascinating career-spanning chat that dives into Stallone's life as an actor and a filmmaker.
Here's the Sylvester Stallone interview with Robert Rodriguez (originally from Facebook):
Eve if Stallone has made his fair share of garbage movies, you can't deny the impact he's had on the entertainment industry, especially with it comes to action movies. Plus, many seem to forget that Rocky won Best Picture in 1976, and many of the cliches that we find in boxing movies nowadays weren't cliche when they popped up in Rocky.
For me, the most fascinating turn in Stallone's career came when he directed Staying Alive, the sequel to the compelling disco drama Saturday Night Fever. It's a completely different movie, and people wanting more of the same from the first movie were fairly disappointed, but I give Stallone credit for taking on a movie that was not what anyone would have expected him to do in 1983.
And if you're wondering if Creed will be worth your time, the reviews are pretty glowing. Our own Jacob Hall says it undoes the sins of the bad Rocky sequels. Creed hits theaters on November 25th.