'Sisters' Trailer And TV Spot: Tina Fey & Amy Poehler Can't Stop, Won't Stop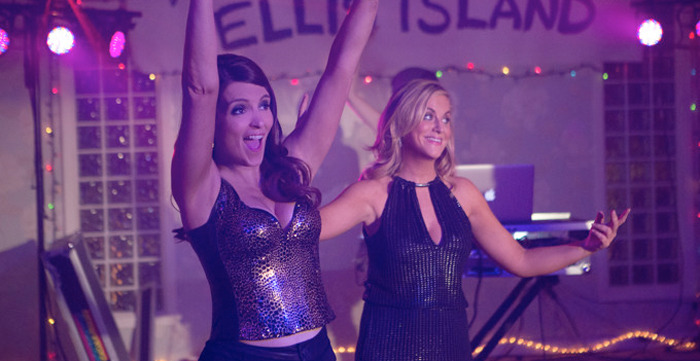 Next month, it feels like everyone in the world will be heading to the movies to catch Star Wars: The Force Awakens. But there are plenty of people who simply don't give a damn about the sci-fi franchise and may be in the mood for something completely different. Tina Fey and Amy Poehler have you covered.
Sisters brings the Saturday Night Live veterans together on the big screen yet again, following their team-up on Baby Mama and their brief cameo in Anchorman 2: The Legend Continues. But this time they're really cutting loose by throwing one last huge party in the house their parents just sold, and you can see how it goes in the new Sisters international trailer.
Here's the quick new international Sisters trailer from JoBlo:
In addition, here's a new TV spot with some extra footage too:
As huge fans of Tina Fey and Amy Poehler, I'm always excited to see them get together (like when they host Saturday Night Live as a duo next month). But so far I haven't been all that impressed by what I've seen from Sisters. Fey and Poehler have great banter in these scenes, but otherwise I feel like there haven't really been any major laughs yet.
Since we have a month to go until the film hits theaters (it hits the United Kingdom about a week earlier), maybe we'll see a longer trailer with more footage that really goes wild. This is an R-rated comedy after all, so a red band trailer should be release to give us a better idea of what's in store. With a script from SNL veteran Paula Pell, and Pitch Perfect director Jason Moore behind the camera, I'm hoping for the best.
You can watch the first trailer for Sisters right here.
Tina Fey and Amy Poehler reunite for Sisters, a new film from Pitch Perfect director Jason Moore about two disconnected sisters summoned home to clean out their childhood bedroom before their parents sell the family house. Looking to recapture their glory days, they throw one final high-school-style party for their classmates, which turns into the cathartic rager that a bunch of ground-down adults really need. Fey produces the comedy alongside Jay Roach (Meet the Parents series) and John S. Lyons (Austin Powers in Goldmember), and Poehler executive produces alongside Jeff Richmond and Brian Bell from a script by Paula Pell (TV's Saturday Night Live, 30 Rock).
Sisters hits theaters on December 18th.