'Extraction' Trailer: Do You Care If Kellan Lutz And Gina Carano Can Save Bruce Willis?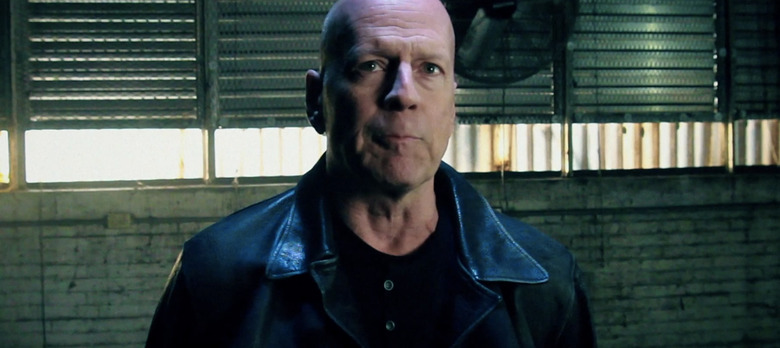 If you're in the market for an action thriller, but you don't really care if the story is formulaic, the performances are terrible, and it looks like everybody phoned it in, then we have good news.
The first trailer for the new movie Extraction has arrived, and while you're normally used to seeing Bruce Willis save the day, this time he's the one who needs saving. Kellan Lutz plays his son, who is both deadly and a government analyst, and must try to save his father, and by association millions of people threatened by a terrorist plot. It's just as bland as it sounds.
Here's the Extraction trailer from Fandango:
This feels like the rejected storyline for A Good Day to Die Hard. Considering how awful that sequel was, that should tell you something about how lame this looks. Willis is clearly phoning this one in, which is really sad when we know what he can do with a stellar movie like Looper. But I suppose everyone needs a paycheck.
Speaking of which, I'm not sure why Kellan Lutz keeps getting paid for acting, because he's certainly not bringing anything worthwhile to the table. And while Gina Carano is incredible when it comes to action, her acting skills leave something to be desired, so hopefully she just keeps punching, flipping and kicking the whole way through. Teaming her up with Lutz in this movie is like booking two pine trees for a stand-up comedy show.
Steven C. Miller, the man behind a movie called Automaton Transfusion and a campy holiday thriller called Silent Night starring Malcolm McDowell, is at the helm of the movie. Umair Aleem and Max Adams wrote the script, which apparently no one bothered to read until the day they made the movie.
When a terrorist group kidnaps retired CIA field operative Leonard Turner (Bruce Willis), his son Harry Turner (Kellan Lutz), a government analyst who has been repeatedly turned down for field service, launches his own unsanctioned rescue operation. While evading highly skilled operatives, deadly assassins, and international terrorists, Harry finally puts his combat training to the test in a high stakes mission to find his father and to stop a terrorist plot.
Extraction hits theaters and iTunes on December 18th, but you'll be watching Star Wars, so who cares?