'Son Of Saul' Trailer: A Harrowing Descent Into Hell On Earth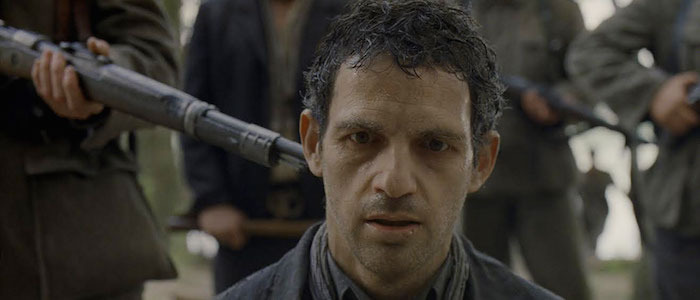 Son of Saul may be a masterpiece. Hungary's submission for Best Foreign Language Film at this year's Academy Awards is stunningly technical accomplishment, a two-hour tour through hell that will leave your emotions battered and leave your soul black and blue. Holocaust dramas are tough sells by their very nature, but director László Nemes' debut feature demands to be seen. This is bold, accomplished filmmaking, providing a crushing, fresh new angle on a subject that has already been filmed countless times.
The Son of Saul trailer only hints at the what the film is, but it's all the better for it. Watch it after the jump.
With no dialogue and only some unsettling, discordant music, the trailer tosses you into the deep end with zero context and refuses to provide any. Sony Pictures Classics is selling Son of Saul's intensity first, which is understandable. This is an armrest-wrecking experience before you even know what it's about.
And it's a crushing experience when you understand what's going on. Géza Röhrig plays Saul, a Hungarian Jew at Auschwitz during the tail end of World War II, who has only survived because he was recruited as a Sonderkommando. His job: escort fellow Jews to the gas chambers, collect their valuables once they've been murdered en masse, and help bring the bodies to the crematoriums. Knowing that their days are numbered, Saul and his friends are planning an escape... but Saul never counted on finding the body of his son among the dead. Now, he must find a way to surive minute-to-minute living at Auschwitz (easier said than done), assist in planning for an armed uprising, and find a rabbi to help him give his son a proper burial.
Nemes worked as an assistant to Béla Tarr and you can see shades of his influence in Son of Saul. But while Tarr's work often utilizes extreme precision and lengthy camera takes to keep the audience at a distance and transform them into observers, Nemes plunges you into each of scenes with unsettling intimacy. Son of Saul is shot almost entirely in close-ups, usually focusing on Röhrig's face or the back of his head. He keeps his head down and never stop moving and we travel with him – it's the only way to stay alive. Saul is so used to the horror of his situation, so numb, that he walks right past atrocities without blinking an eye. And because he doesn't focus on it, the camera doesn't focus on it. The film puts us squarely in Saul's POV at all times and demands that we search his unflinching face for any emotion, only for us to realize that he's locked those down deep inside of him a long time ago.
You can read our rave review of the film right here. Here's the official synopsis:
October 1944, Auschwitz-Birkenau. Saul Auslnder is a Hungarian member of the Sonderkommando, the group of Jewish prisoners isolated from the camp and forced to assist the Nazis in the machinery of large-scale extermination. While working in one of the crematoriums, Saul discovers the body of a boy he takes for his son. As the Sonderkommando plans a rebellion, Saul decides to carry out an impossible task: save the childs body from the flames, find a rabbi to recite the mourners Kaddish, and offer the boy a proper burial.
Son of Saul will open in the United States on December 18, 2015. It is steadily rolling out to other countries in the weeks before and after.