'Now You See Me 2' Trailer: Daniel Radcliffe Is Bad At Magic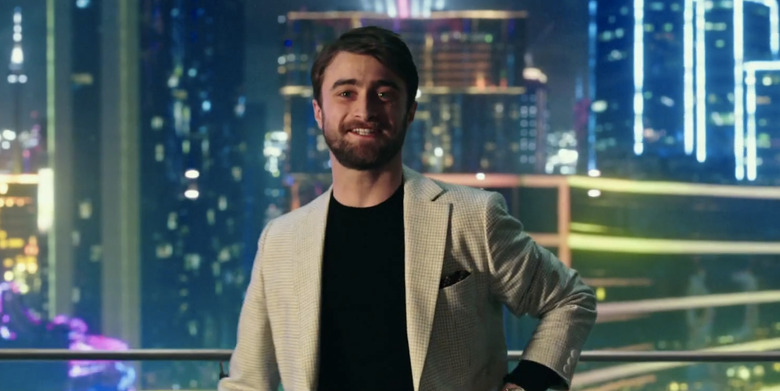 With The Hunger Games: Mockingjay – Part 2 hitting theaters this weekend, it's a good time for studios to get their forthcoming movies in front of plenty of audiences, in the form of new trailers. So it should come as no surprise that Lionsgate's sister company Summit Entertainment has a Now You See Me 2 trailer debuting this week, and they've got an ace in their pocket to make the magician heist sequel more appealing to the young adult audience: Harry Potter.
Here's the Now You See Me 2 teaser trailer:
Daniel Radcliffe pops up right at the end, and unlike his most famous character, it looks like his Now You See Me 2 character might be a little clumsy when it comes to magic. Though it's not mentioned in this teaser trailer, Michael Caine (who is also back for the sequel) revealed that Radcliffe is playing his son.
Since Caine was on the wrong end of the Four Horsemen's Robin Hood-esque magician antics in the first film, I'm not necessarily sure I would trust that kid, but maybe that's the point. The question is what Morgan Freeman will be up to this time, after being duped by Mark Ruffalo in a rather predictable twist from the end of the first movie. Who is the villain who will likely end up getting screwed over by the team now?
We don't really get an idea of the story that will be in play this time, but we do get to see plenty of new visual trickery from Woody Harrelson, Jesse Eisenberg, Dave Franco and Ruffalo. Plus, there's newcomer Lizzy Caplan as a new character named Lula, stepping up to replace Isla Fisher who was unavailable due to her third pregnancy. There's a part of me that still wishes there was a little more legitimate magic trickery instead of visual effects used for the Four Horseman's action, but this doesn't look half bad.
G.I. Joe: Retaliation director Jon M. Chu is at the helm of the sequel this time, and it arrives in the middle of next summer on June 10th, 2016.
One year after outwitting the FBI and winning the public's adulation with their mind-bending spectacles, the Four Horsemen resurface in NOW YOU SEE ME 2 only to find themselves face to face with a new enemy who enlists them to pull off their most dangerous heist yet.