'Ant-Man' Gag Reel Provides Sufficient Evidence That Paul Rudd Never Stops Dancing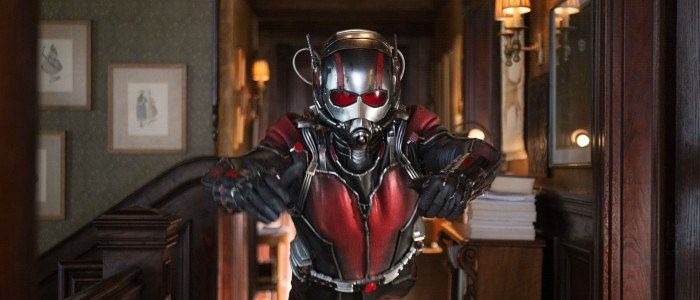 As long as grown men dancing in superhero costumes remains funny, Marvel gag reels will always be worth a watch... and the new Ant-Man gag reels contains a higher percentage of dancing than any gag reel we've seen in ages. If this video is any indication, Paul Rudd starts dancing at the drop of a hat and must be coerced into standing still. Michael Peña also busts plenty of moves, but Rudd, whether he's in the Ant-Man outfit or in civilian clothes, never stops moving to his own personal beat. He's a treasure. We don't deserve Paul Rudd.
The gag reel also features other amusing moments, but it's about 84% Rudd/Peña dancing. So you know what you must do. You must watch it.
With Ant-Man hitting Blu-ray and DVD on December 8, 2015, consider this Marvel's biannual "Hey, our home releases are usually filled with just enough cool bonus features to be worthy of your cash" announcements. This cut of the gag reel only runs 36 seconds or so, but we imagine there will be a longer version on the actual disc.
And while we know that some Marvel actors aren't happy to be trapped in the MCU for a contractually obligated number of movies, and that even the most easygoing film sets are hit with difficult, frustrating days, these gag reels always make working on a Marvel movie look like so much fun. Here are men and women, dressed as heroes and acting like they contain the power of gods, appearing all too human. They screw up, miss their cues, go out of their way to make their fellow actors laugh, and try to keep their spirits up in any way possible. Many gag reels are fun, but Marvel gag reels tend to be so sweet and adorable. Sure, it's a consciously crafted image that avoids the parts where these actors are having bad days and enduring uncomfortable costumes, but it's one that makes us smile.
And because we like you and want you to be happy, here's the gag reel for Avengers: Age of Ultron, which packs an absurd amount of charm into an all-too-brief two minutes:
And then there's the Guardians of the Galaxy gag reel, which is all about Lee Pace talking in his normal voice while chilling out in Ronan gear:
And how about the Captain America: The Winter Soldier gag reel, which will make you wish for a Steve Rogers/Natasha Romanoff romantic comedy of some sort:
Anyway, Ant-Man will return with a new partner in tow for Ant-Man and the Wasp, which is set for July 6, 2018. Those easter egg scenes from the end credits are also online, just in case you want to do the whole frame-by-frame thing.