'The Walking Dead' Theme Park Ride Will Let You Simulate The Punishing Degradation Of Your Humanity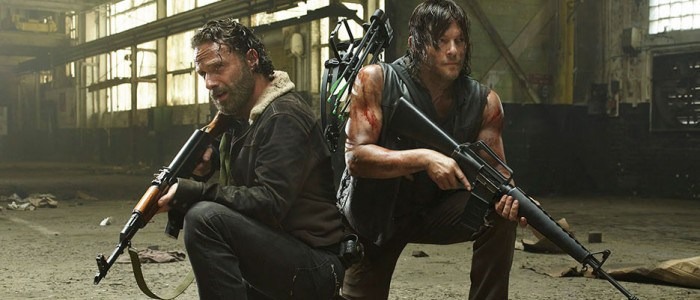 You can say a lot of things about the still hugely popular The Walking Dead – it's thrilling, disgusting, boring, repetitive, suddenly-good-after-all-these-years, and/or just-as-bad-as-ever – but you won't find many people calling it "fun." The series is punishing at best, putting its characters through the wringer and asking audiences to continually sympathize people who have become worse than the monsters they're fighting.
So it may be a little weird that AMC's flagship series is becoming a theme park ride. Just a little.
Sally Corp, who build animatronics and attractions for museums and theme parks, has revealed The Walking Dead: Battle For Survival at this year's International Association of Amusement Parks and Attractions (IAAPA) convention in Orlando, Florida. The "mixed media" dark ride is already fully designed. It just needs a buyer and a home.
We first learned about the Walking Dead ride on Twitter, when images from Sally Corp's booth began circulating. As a sales pitch, the company brought along a detailed set and a pretty impressive animatronic.
Inside the Magic was able to snag a closer look, taking a close-up video that zombie and its surroundings:
The exact details of the ride were not available to the public, but we can make a fairly educated guess on what you can expect based on the company's previous output. Most of Sally Corp's dark rides combine 3D projection, physical sets, and animatronics, moving thrill-seekers through a physical environment that is enhanced through screens and animated characters. Their more recent output has borrowed from a trend started by Men in Black: Alien Attack at Universal Studios and Buzz Lightyear's Space Ranger Spin at the Disney theme parks – guests are usually armed with plastic weapons, letting them interact with their surroundings by shooting everything that moves.
Normally, the story of the ride makes a point that the guests are using stun weapons of some kind. We imagine that The Walking Dead won't be so shy about its interactive bloodshed. For the record, Inside the Magic says that the ride won't be as gnarly as the show, but will be more violent than your average theme park attraction.
For a taste of what you can expect, you can look at two of Sally Corp's most recent dark rides, both of them themed around DC comic book characters. First up is Justice League: Alien Invasion 3D at Warner Bros. Movie World:
And here is a ride-through of Justice League: Battle For Metropolis at Six Flags Over Texas:
Watching this very specific ride-and-shoot aesthetic being applied to the Walking Dead license should prove, well, interesting. The show is certainly popular enough to justify its existence, but will it still be The Walking Dead once you've essentially turned it into a video game? After all, a proper Walking Dead theme park experience would only give you a single bullet, surround you on all sides, and encourage you to turn the gun on yourself. Without depressing angst and ongoing dread, a Walking Dead ride could be just be a zombie shoot-em-up.
But who are we kidding? Just let us know when this thing is open and we'll make a pilgrimage to check it out.