VOTD: Behind The Scenes Of The Recording, Scoring And Making Of 'The Good Dinosaur'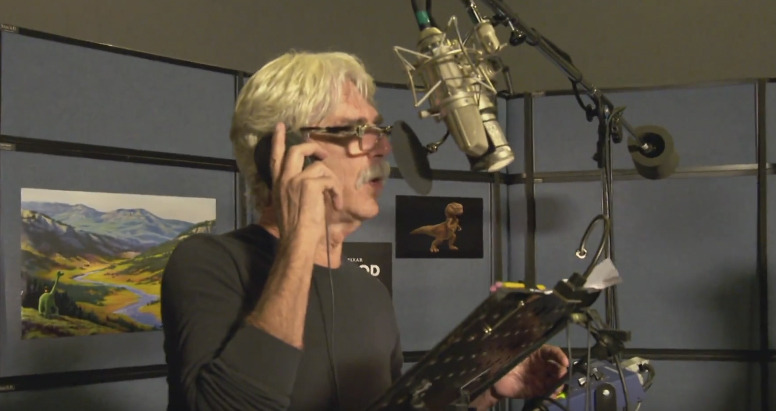 Next week brings the perfect movie for the whole family to see after a tasty Thanksgiving feast, Pixar's The Good Dinosaur. The film hits theaters everywhere on November 25th, bringing us the story of a lost dinosaur named Arlo who befriends a wild little boy who he names Spot and tries to survive in the wild on his own.
We've already got a good idea of just how much we're going to cry at this movie thanks to the most recent trailer, so why not take a look at the hustle and bustle behind the scenes of making a feature length animated movie. Below we have a few videos looking at the making of The Good Dinosaur, from recording sessions with the actors to a scoring session for the soundtrack and even director Peter Sohn brainstorming and storyboarding with the crew.
Here's a video of some of the voice recording sessions for the movie featuring cast members Raymond Ochoa, Jeffrey Wright, Sam Elliott, Frances McDormand, Anna Paquin and more:
I don't know about you, but I love seeing the actors from animated movies doing variations on their lines. For me, it's more impressive to see an actor working like this when they don't have any actors to play off of, no set to help them get into the right mood, and no wardrobe to help them feel in character.
Then there's this look at a recording session for the score:
And finally, some footage at various stages of production, from animating to storyboarding and more:
And if you're just looking to see as much as you can from Pixar's next movie, check out this new clip featuring a character called The Pet Collector, who has his eyes on adding Spot to his animal friend line-up:
Thanks to Stitch Kingdom for bringing all this good stuff to our attention. If you want to learn more about The Good Dinosaur, be sure to check out our full interview with Peter Sohn and also our extensive feature on what made the movie different from the rest of Pixar's films. The Good Dinosaur arrives on November 25th.
The Good Dinosaur asks the question: What if the asteroid that forever changed life on Earth missed the planet completely and giant dinosaurs never became extinct?  Pixar Animation Studios takes you on an epic journey into the world of dinosaurs where an Apatosaurus named Arlo (voice of Raymond Ochoa) makes an unlikely human friend. While traveling through a harsh and mysterious landscape, Arlo learns the power of confronting his fears and discovers what he is truly capable of.