Ben Wheatley To Remake 'The Wages Of Fear' Because He's The Only Director Allowed To Remake 'The Wages Of Fear'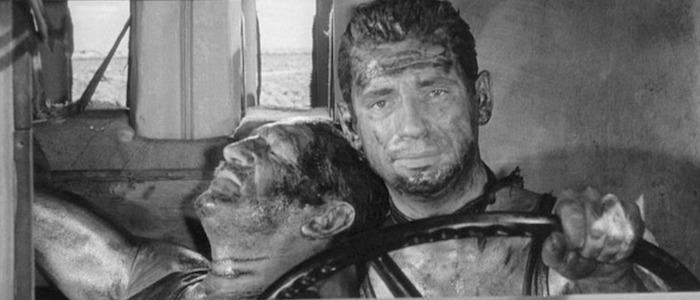 Henri-Georges Clouzot's The Wages of Fear is one of the best thrillers ever made, a despairing, sentiment-free, white-knuckle road trip into a nightmare. When it comes to powerful portraits of shattered masculinity barely surviving in the shadow of capitalism and existential dread, cinema pretty much peaked in 1953. So it's actually kind of insane that William Friedkin's 1977 remake, Sorcerer, is also a masterpiece, although you'll find two dedicated camps debating over which version is superior.
Now, a third take on the material is on the day. Ben Wheatley, the twisted genius behind Kill List, Sightseers, and A Field in England, is in talks to remake The Wages of Fear and we're oddly cool about it. After all, things worked out pretty well the last time a genius filmmaker decided to remake this movie, and here's a hot take for you: Wheatley is a brilliant talent who deserves to be mentioned in the same sentence as Clouzot and Friedkin. He's one of the few filmmakers working today who deserves a "remake whatever the hell you want" pass.
Find everything we currently know about the Wages of Fear remake after the jump.
The news of the remake comes to us via Deadline, who report that producer David Lancaster (whose credits include modern gems like Nightcrawler, Whiplash, and Drive) is spearheading the production alongside TF1 and eOne. Wheatley in talks to direct, with regular co-writer (and editor and wife) Amy Jump set to pen the screenplay with him.
The premise of The Wages of Fear remains ingenious and terrifying today. The original film follows four French and Italian ex-pats who are stranded without the money or means to afford a way out of the small Latin American town that has entrapped them. Desperate to escape their life of unemployed misery in the middle of the desert, they accept a suicide mission – they must transport two tanker trucks full of nitroglycerin across 300 miles of unpaved roads to help extinguish a raging inferno at an oil field. One bump, one unplanned tap of the brakes, will blow them to kingdom come.
Friedkin's Sorcerer follows the same basic outline, albeit with some noteworthy changes. For example, the iconic (and often parodied) rope-bridge scene is not in the original The Wages of Fear, but we imagine Wheatley and Jump would probably include it anyway:
Wheatley, whose films fluctuate between grimly hilarious and impossibly tense, is a fascinating match for this material. The slow-burn intensity he's showcased in his previous films already makes him an ideal match for a story where the characters are literally driving a bomb across the desert, but we imagine he'll include an injection of his trademark acidic comedy. After all, the situation at the heart of The Wages of Fear is so indescribably hostile against human existence that it could actually use a black-hearted laugh or three.
Meanwhile, Wheatley's brilliant-but-difficult High-Rise is still looking for a distributor while his still-unseen action movie Free Fire has been picked up for distribution. The one of the most talented guys making moves today is literally backed up with new films is only a good thing.