'A Very Murray Christmas' Trailer: The Booze-Soaked Holiday Variety Special You've Always Wanted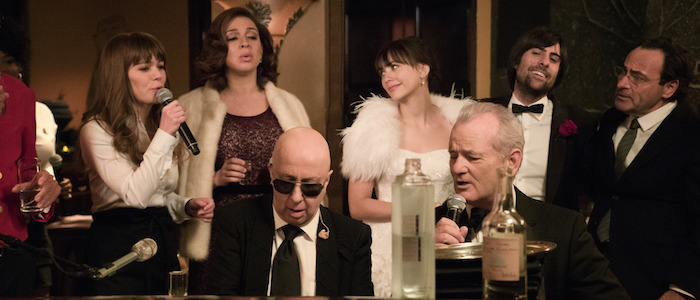 Once upon a time, a holiday variety special hosted by Bill Murray would have been a star-studded live affair airing on a major television network. As a sign of changing times and tastes, A Very Murray Christmas is heading straight to Netflix and it looks like it captures the kind of melancholy and dryly funny humor that infect so many of us during the more festive months of the year.
After a series of brief teasers, the first actual trailer for A Very Murray Christmas has arrived and it feels far different than what we were expecting. What initially looked like it was going to be a riff on kitschy Christmas specials of old now appears to be very much a project of late-era Bill Murray: the comedy is only matched by loneliness, sadness, and sense of detachment. But if there's one thing we know, it's that few people are capable of mining comedy from those concepts quite like Murray.
So grab some eggnog, load it up with the alcohol of your choice, and watch the A Very Murray Christmas trailer after the jump.
The plot of this movie – or is it a TV special? Streaming is weird – is actually fairly ingenious. Bill Murray, playing himself, is hosting a star-studded Christmas special from a New York City hotel. Unfortunately, winter storms have shut the whole show down and none of those stars are coming. So Murray decides to make the most of a bad situation and parties on, celebrating the season with the friends who showed up and the hotel workers who happen to be in the vicinity.
With a cast that includes George Clooney, Paul Shaffer, Tina Fey, Amy Poehler, Julie White, Dimitri Dimitrov, Michael Cera, Chris Rock, David Johansen, Maya Rudolph, Jason Schwartzman, Jenny Lewis, Phoenix, Rashida Jones, and Miley Cyrus, A Very Murray Christmas finds our star interacting with folks from across the entertainment industry, many of whom seem to be playing self-deprecating versions of themselves. Poehler goes total Murray fangirl. Cera is an obnoxious jerk. Murray even suffers a hilarious Monuments Men joke. The whole thing looks laid-back and low-key – this is a bunch of funny people hanging out, being charming and a little sad.
The special/movie/streaming event is directed by Sofia Coppola, who previous directed Murray to an Oscar nomination in Lost in Translation. She also co-wrote the script alongside Murray and comedy vet Mitch Glazer, who wrote the screenplay for Scrooged, which just-so-happens to feature the great Bill Murray Christmas scene of all time:
Here's the official synopsis for A Very Murray Christmas:
This winter, Bill Murray brings an extra-special dose of holiday cheer to Netflix with the premiere of an all-star musically-driven holiday special, A Very Murray Christmas. Set inside New York City's iconic Carlyle hotel, A Very Murray Christmas opens with Murray preparing to host a live, international holiday broadcast. After a blizzard shuts down the production, he makes the best of the situation by singing and celebrating with friends, hotel employees and anyone else who drops by.
A Very Murray Christmas will drop on Netflix on December 4, 2015.