Star Wars Launch Bay Video: The Past, Present And Future Of Star Wars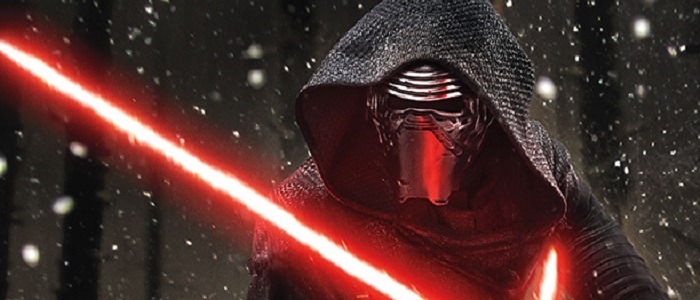 For the next few weeks, the Disney's patented Synergistic Marketing Machine is going to kick into a gear we've never quite seen before. With Star Wars: The Force Awakens only a month away from release, the massive media conglomeration is embarking on a campaign to make sure that each and every human being on the planet with access to a movie theater knows about J.J. Abrams' sequel and is either excited about it or browbeaten enough to go see it out of obligation. It's all the same in the end, right?
Disney's most impressive feat of marketing has to be the Star Wars Launch Bay attraction that officially opened at several of their theme parks yesterday. This temporary exhibit (a prelude to the actual under-construction Star Wars lands arriving in a few years) shows off props and costumes from The Force Awakens, gives fans a chance to interact with a few Star Wars characters, and ultimately serves as a massive reminder that they love the original trilogy.
But Disneyland passes cost a literal arm and a leg these days (what is Disney doing with their new collection of limbs?) so you might as well watch videos from the exhibit at home in bed.
We have already shared some images from several Star Wars Launch Bay exhibits (which were photographed during early previews), but now footage from a video being played on constant rotation at the exhibit has made its way online. There's little here that the average Star Wars fan hasn't seen before, but the presentation speaks volumes. In any case, it's fun to watch Abrams, Lucasfilm president Kathleen Kennedy, Rogue One director Gareth Edwards, Star Wars: Episode 8 writer/director Rian Johnson, and Star Wars Rebels producer Dave Filoni geek out about the series that they now play a role in:
There are two important things to note about this video. First, it assumes that all of the ordinary folks going to Disneyland aren't aware of the larger plans Disney and Lucasfilm have for Star Wars, so it takes time explaining the spin-off movies and how all of the current shows, books, video games, and comics take place in a single universe that is being carefully monitored by a story group. Second, there are only a few brief shots from the prequels. Disney isn't kidding about distancing itself from the previous three movies, and the huge challenge ahead of them remains convincing nostalgic young adults raised on those (indefensibly bad) movies to embrace the feeling of the original trilogy.
And while most of the Force Awakens footage seen in the presentation is from other trailers, there is one new shot. Here it is, via Making Star Wars:
However, the real draw of Star Wars: Launch Bay seems to be HyperSpace Mountain, a special overlay of Space Mountain that transforms Disneyland's classic indoor coaster into a jaunt through the Star Wars universe. The ride is still the same, but it now has a John Williams soundtrack, laser blasts, and projected TIE Fighters flying straight at your face:
Star Wars: The Force Awakens opens on December 18, 2015. If you don't have that date memorized now, you will soon.