This Massive 'Jurassic Park' LEGO Creation Pays Tribute To The Whole Franchise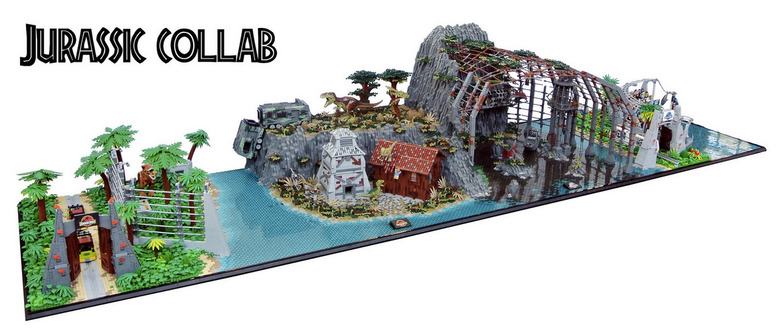 With recent news of a Jurassic World trilogy in the works to follow the success of the sequel/reboot this past summer, the popularity of the Jurassic Park franchise might be bigger than it's ever been. There's plenty of dinosaur action in our future from Universal Pictures.
Now two fans have taken their love of the franchise to an extreme level with a massive LEGO creation that takes all four of the Jurassic Park movies spanning 22 years and combines them into one giant set, not unlike the LEGO Jurassic World video game that was released this year in conjunction with the movie. Check it out!
Here's the entire Jurassic Park LEGO creation (via Brothers Brick):
And here's it broken down into the separate movie sections:
What's really interesting about this creation is that creators Paul Trach and Markus Aspacher planned and built this set while living about 400 miles apart from each other. Markus lives in Austria while Paul lives in Germany, and each of them took two different movies in the franchise. Jurassic Park and Jurassic Park III went to Marks while The Lost World: Jurassic Park and Jurassic World went to Paul, who explains:
We have been thinking about that project for more than a year, but started building it only three months ago. Our aim was to build an impressive and popular display to represent our LUG [Imperium der Steine] at the "Bricking Bavaria" exhibition. The upcoming JW movie seemed legit, because as everybody knows, kids love dinosaurs.
The result is a meticulously crafted recreation of some of the most iconic scenes in all the movies, from the entrance to Jurassic Park to the tyrannosaurs rex eating goat to the intense double trailer cliffhanger in The Lost World. And while Jurassic Park III may not be a quality sequel in the franchise, that portion of the set is truly impressive with that huge mountain in the aviary.
Honestly, I'm not sure why we haven't gotten any Jurassic Park LEGO sets yet, but that needs to change really soon. There are a couple of LEGO Ideas options on the table that you can support, from the Ford Explorer to an intricately designed Visitors Center that's just as cool as the new Ghostbusters firehouse on the way early next year.