'F Is For Family' Trailer: Bill Burr Brings Animated Family Dysfunction To Netflix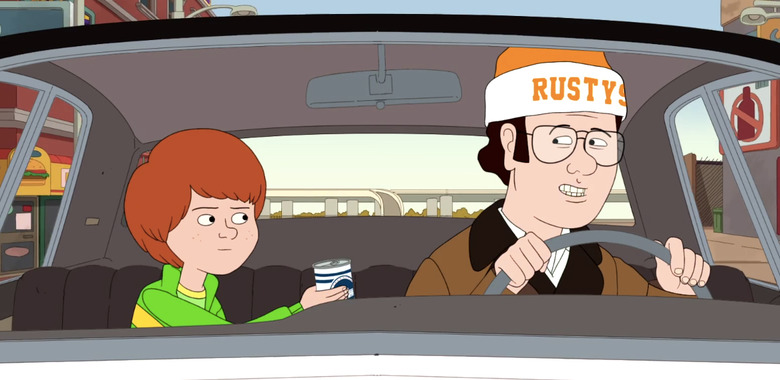 Bill Burr is one of those comedians that you either love or hate. He's not shy about voicing his opinion, no matter how blunt or controversial it may be, and he doesn't coddle his audiences by skirting around things like racism, sexism or anything politically incorrect. But that's part of his charm. He's a real salt-of-the-earth kind of guy, and a bit of an a**hole, but he brings an immense amount of wit, intelligence and common sense with him. That's why I'm pretty excited to see what he can bring to the animated family sitcom.F is for Family is a new Netflix show created by Burr himself and The Simpsons writer Michael Price, and the full trailer for the series has just arrived, showcasing the comedian's unique approach to raising a family back in 1973, when men were men and women weren't astronauts. But beware, because, there's some salty NSFW language.
Here's the F is for Family trailer from Netflix:
Burr leads the series as the Murphy family patriarch while Laura Dern plays his wife Sue, Justin Long voices his oldest son Kevin, and Sam Rockwell puts the icing on the cake as some bulgy, blond blowhard named Victor.
Setting the series in 1973 is the perfect way to bring Burr's comedic sensibilities to life, and this feels like a raunchy, animated version of The Wonder Years. Culture was so much different 40 years ago, and Burr's old-fashioned way of thinking that stems from his time growing up in this decade should bring some flair to family comedy, even though this is certainly not a show the whole family can watch.
And since the series is executive produced by Vince Vaughn and Peter Billingsley by way of the former's Wild West Television banner, you can bet there will be some great guest stars popping up here and there. Previously, Burr had this to say about the series:
F is for Family is the show I've always wanted to do. It captures all the characters of my childhood the way I remember it to be. Fortunately Mike Price and everyone at Wild West seem to know the same people I knew growing up. It's going to be a lot of fun to tell these stories.
The series will kick off with six episodes on December 18th, but if it does well on Netflix, surely the streaming service will order another season to join the rest of their successful original programming.