Slimer May Or May Not Be In The 'Ghostbusters' Reboot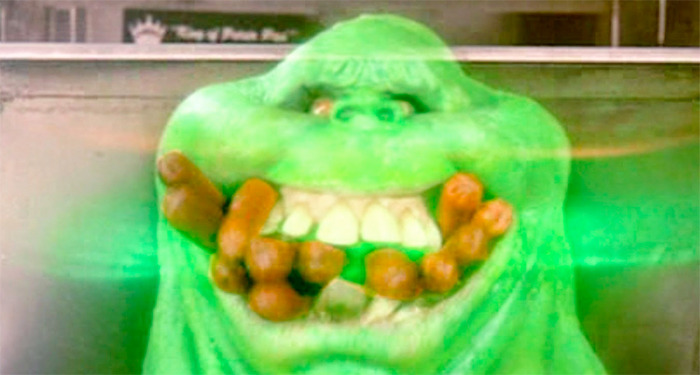 Even though the forthcoming Ghostbusters reboot doesn't have any narrative ties to the original franchise, there will still be plenty for original fans to sink their teeth into. All of the surviving Ghostbusters (Bill Murray, Dan Aykroyd and Ernie Hudson) have cameos along with a couple other cast members (but not Rick Moranis). But one more cameo from a familiar Ghostbusters face might be on the table.
A new rumor says that a Slimer cameo will be brought into the Ghostbusters reboot, but one conflicting, key source has created some doubt as to whether that will actually happen. Find out more below!
Bloody Disgusting recently noticed that the Ghostbusters reboot IMDb page lists Slimer as being played by Dan Castellaneta, whom you may know better as the voice of Homer, Krusty the Clown and countless other characters on The Simpsons. Now, IMDb can be edited by anyone, so this isn't exactly a reliable source. However, here's where things get potentially interesting.
Paul Feig posted this update on Twitter in response to the rumor:
Sorry, gang. That IMDB credit is not true. Gotta unconfirm that one. https://t.co/xOzCwgpUEk

— Paul Feig (@paulfeig) November 15, 2015
Seems like an open and shut case, right? Maybe not. Because Bloody Disgusting is standing by their report that Slimer will appear in the movie. They cite three unnamed, separate sources who confirmed this fact. And when you examine Feig's tweet, he only says that the IMDb credit isn't true, and doesn't debunk the fact that Slimer is in the movie. So it sounds like we might get the hot dog munching specter in the movie after all.
While I think it'll be cool to see an updated version of Slimer in some capacity, I am starting to get a little concerned that there are going to be too many references to the original Ghostbusters for the reboot to really stand on its own. It's one thing to get cameos from the stars of the original movie, but having Slimer show up just seems too direct of a reference.
As someone who fully supports Paul Feig's reboot and the new 'busters played by Kristen Wiig, Melissa McCarthy, Kate McKinnon and Leslie Jones, I wish they would either embrace the franchise fully as a continuance of the original movies, or keep the references to the original film to a minimum. But I'm still hoping for the best.
If anything, maybe the return of Slimer in the Ghostbusters reboot will finally inspire Hi-C to bring back their wonderful Ecto Cooler juice box, something kids of the '90s are desperate to have back.