This Week's 'Supergirl' Episode Delayed Out Of Respect After Paris Attacks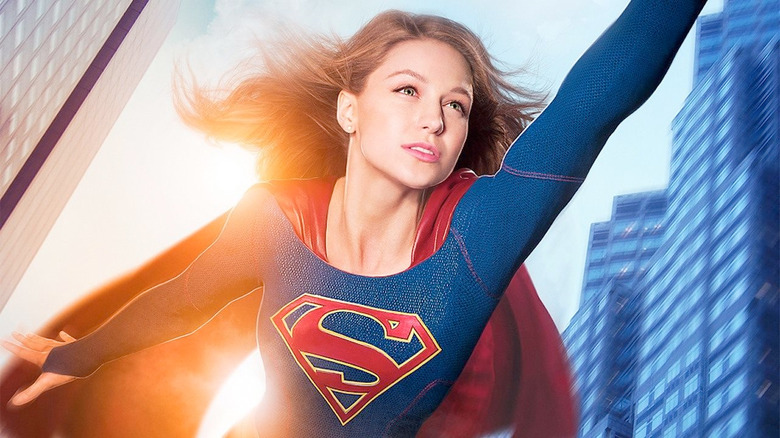 Following a series of coordinated attacks late Friday night, the city of Paris is still recovering with citizens on edge. Even today, some sort of panic erupted near a memorial for the victims killed on Friday after a false alarm scared a group of mourners. And out of respect for those still recovering and unnerved from the tragedy, CBS is making some changes to their TV schedule this week.
An episode of Supergirl slated to air on Monday, November 16th will be pushed back, a move the network made out of sensitivity for the people of Paris since the story deals with a series of bombings in the heroine's residence of National City and might hit a little too close to home after the terrorist attacks. Find out more about the Supergirl episode delayed below.
Deadline has word of the CBS decision to push back the "How Does She Do It?" episode of Supergirl. A new episode of Supergirl will still air in the timeslot, and it will be the "Livewire" episode that was intended to air the week of Thanksgiving.
It's not clear as to when CBS will end up airing the delayed episode, but pushing it back is undoubtedly a smart move. However, I do wonder if there might be some confusion with regards to serial continuity in the series. Is there anything that happens in the "How Does She Do It?" episode that impacts what happens in the "Livewire" episode? As of now, we don't know and it's far less important that supporting our friends in France, but we'll keep our ears to the ground for details on that front.
In addition, CBS is also holding back an episode of NCIS: Los Angeles called "Defectors" because it revolves around ISIS, the terrorists responsible for the Paris attacks, recruiting new members for their cause. It will also be replaced by a future episode that was originally supposed to air in December. You can ask your parents what's happening on the NCIS spin-off if you're confused.
This all comes after a live HBO concert featuring U2 was canceled along with movie premieres for Bridge of Spies and Jane Got a Gun in Paris that were scheduled over a few days. Movie theaters all around the city also closed on Saturday and many remained closed into Sunday as well. We're all hoping life gets back to normal for Paris very soon.