Gallery 1988's 'Star Wars: The Art Awakens' Show Opens, See And Buy Our Favorite Pieces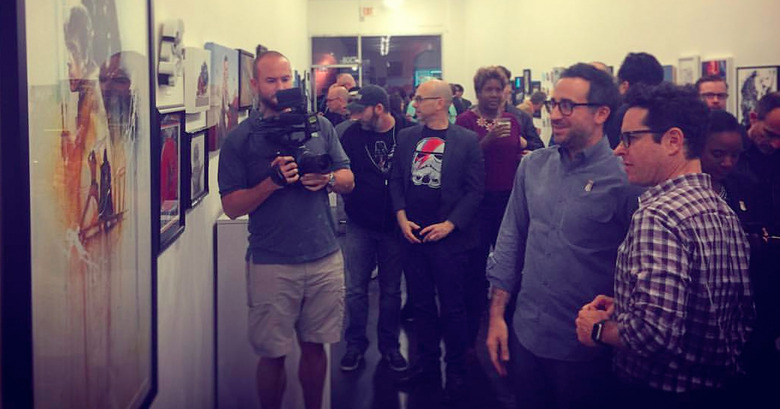 We're heading into the home stretch of waiting for Star Wars: The Force Awakens with just over a month left until the film hits theaters on December 17th. And along with the onslaught of TV spots that will be arriving to help promote the film, there will be plenty of other Star Wars events and promotions, like Gallery 1988's The Art Awakens show.
The exhibition opened last night with a slew of new artwork from over 60 artists, paying tribute to the original Star Wars trilogy (with some influence from the prequels) and The Force Awakens. J.J. Abrams (seen above in a photo from our own Peter Sciretta) and Lawrence Kasdan even attended the event last night.
And for those interested, there are a couple of pieces that may provide some insight into the forthcoming sequel.
Here's some of our favorite pieces from the Gallery 1988 Star Wars The Art Awakens show:
And here are the two The Force Awakens pieces that may give us some insight into the movie:
That's the lightsaber of Luke Skywalker (passed down from Anakin Skywalker) sitting in the sand with the shadow of a hand reaching to grab it. Since it's in the sand, we're assuming this is on Jakku, but the question is whose hand is that? Does Rey find the lightsaber on Jakku, and that's why the First Order starts chasing her?
The other piece features Kylo Ren and some of the other Knights of Ren around a Darth Vader statue. We don't know if this is inspired by a scene we'll see in the movie, but we have been told that this organization, which gave Kylo his name, worships Darth Vader and what he stood for. And that seems to be Kylo Ren's driving force, judging by the dialogue we've heard from him in the final trailer as well as the international trailer, the first TV spot and the latest TV spot.
All of these pieces are up for auction on eBay right now with money going to Star Wars: Force for Change to benefit UNICEF Kid Power. The auction runs through November 23rd, and some of the pieces up for auction have already hit hundreds of dollars.
But if you don't have that kind of money to throw around, the good news is that there are select pieces that have prints available for you to purchase. One of them is the above piece of Luke's lightsaber in the sand, and if you want to see the others, just check out the entire page of auctions and prints available right now for you perusal.