'Gambit' Turns On That Cajun Charm, Convinces Director Doug Liman To Take The Job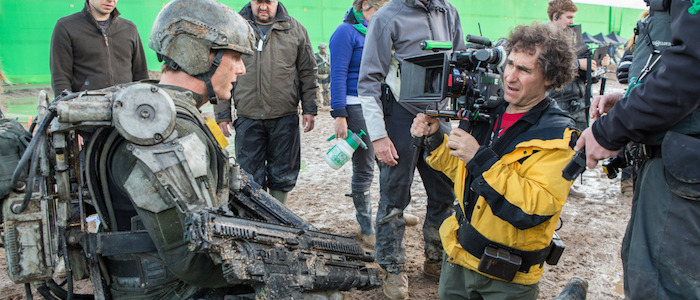 The development of Gambit has been something of a roller coaster. First, the film struggled for months to find a director as every A-list filmmaker turned down the job. Then, Rise of the Planet of the Apes director Rupert Wyatt took the gig, only to drop out shortly thereafter. And producer and star Channing Tatum threatened to quit and then he was back on board. It has not been an easy road for 20th Century Fox's X-Men spin-off, which was last seen quietly begging a new group of directors to please, for the love of God, sign on and make this movie happen, pretty please.
And lo and behold, one of those directors has apparently taken the gig. Doug Liman, the director of The Bourne Identity and Edge of Tomorrow, has taken the gig. Hopefully, whatever scared everyone else away won't affect Liman, who has a reputation for having stood firm through his fair share of troubled productions.
Hit the jump for more news on the new Gambit director.
The news that Liman is nearing a deal to direct the first solo adventure of Remy LeBeau, the mutant superhero who can charge any object with kinetic energy, comes to us via The Hollywood Reporter. Now, Liman and his infinitely charming star have a major task ahead of them: they must make Gambit remotely interesting to anyone who doesn't have '90s comic and cartoon nostalgia. Gambit kinda stinks. But Liman and Tatum? Sign us up.
Although Liman has a reputation for running a disorderly set, it's often hard to argue with the results. Edge of Tomorrow is one of the most exciting and unique mainstream science fiction films of the past few years, The Bourne Identity is a bonafide action classic, and Mr. and Mrs. Smith is a robust action movie brimming with personality. He also made Jumper, but we can't hold that against him. Nobody even saw it, so it might as well not exist. Right now, he's wrapping up Mena, the Tom Cruise-starring drug smuggling drama that's set to open in January of 2017. In other words, the movie he's finishing right now will come out three months after the superhero movie he'll be shooting next. Yikes.
Gambit made his big screen debut as a supporting character in X-Men Origins: Wolverine, where he was played by a woefully miscast Taylor Kitsch. Thankfully, he was just a bad component in a movie filled with unforgivably terrible components, so his big screen cachet remains mostly untouched. A boring side character has nothing on memory-erasing bullets. By the time Gambit hits theaters, only the uber-nerds will remember that he was in another movie at all.
Gambit is scheduled for an October 7, 2016 release date.