James Gunn Shares 'Guardians Of The Galaxy Vol. 2' Details, Reveals That He Knows Exactly What Groot Is Saying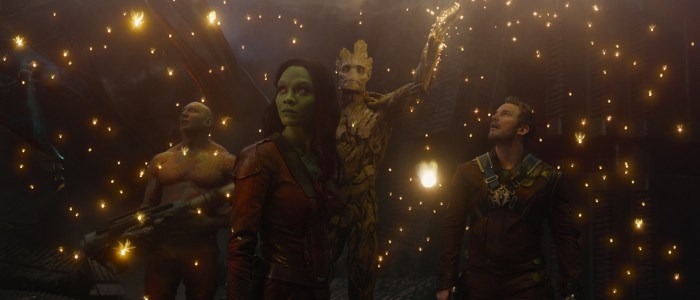 James Gunn is very good at Twitter. He was very good at Twitter back in the olden days, when he was just the mad genius behind Slither and Super. Now that he's the director of Marvel's Guardians of the Galaxy, he's taken his larger profile in stride. Few filmmakers are as good at engaging their fans on social media and toeing the company line. It's a tricky balance that Gunn makes look easy.
In today's edition of "James Gunn throws hungry comic book fans a bone," Gunn offered himself up for a Twitter Q&A, answering questions on a variety of subjects from normal fans and fans who just so happened to play Darth Vader back in the day. However, most of the questions revolved around the upcoming Guardians of the Galaxy Vol. 2, and Gunn obliged, sharing more than a few interesting tidbits.
Check out Gunn's Guardians of the Galaxy 2 details after the jump.
These tweets come at just the right time. Other than Bradley Cooper making some very confusing statements and Pom Klementieff getting cast in a mystery role (and Matthew McConaughey turning down the role of the villain), things have been awfully quiet on the Guardians of the Galaxy front.
First up, here's perhaps the most intriguing answer from the whole session. Gunn revealed that he has a version of the screenplay that offers translations for every line of dialogue from Groot, the sentient tree who only speaks the phrase "I am Groot." Don't expect to see it, though. The only people who have a copy are him and Vin Diesel, who provides Groot's voice:
As for the screenplay everyone involved in the production is allowed to see, Gunn confirmed that his work is just about finished, aside from the last-minute changes that every script goes through, of course. He also confirmed that this was a solo project all the way (Nicole Perlman received writing credit on the first film):
Naturally, he answered questions about the film's soundtrack. Since Chris Pratt's Star-Lord was given a second "Awesome Mix" cassette tape just as the first film concluded, the sequel will follow suit, filling the space between space adventures with pop and rock hits from the '70s. Although Gunn didn't offer any details about what may be on the soundtrack, he did have some good news:
Gunn once again confirmed that the Guardians of the Galaxy animated series has no relation to the Marvel Cinematic Universe. Unlike Agents of S.H.I.E.L.D. and Daredevil, it won't be required watching for the diehard MCU fans:
Gunn also fielded questions about his relationship with Marvel Studios, and he was a ray of sunlight in the midst of a subject that is frequently full of gray skies. Avengers: Age of Ultron director Joss Whedon hasn't been shy about the physical and mental strain of making movies in the Marvel system, which demands that filmmakers work as collaborators within a much larger game plan that goes well beyond their single movie. It's not a process that works for every filmmaker. And yet Gunn has nothing but nice things to say about his time with Marvel so far:
When asked if he'll be back for a third film, Gunn pumped the brakes. Let the man finish the movie he hasn't even started shooting yet, people!
And finally, Gunn answered two questions about his cast: who is the most difficult actor he's worked with, and who is the most fun? Anyone who knows that Gunn and Michael Rooker (a.k.a. Yondu) are buddies in the real world should get a kick out of this one:
Guardians of the Galaxy Vol. 2 is set to arrive on May 5, 2017. A tip of the hat to Collider for bringing these tweets to our attention.