Star Wars Bits: Disney Infinity On Apple TV, The Art Awakens, Han Solo Blaster Flask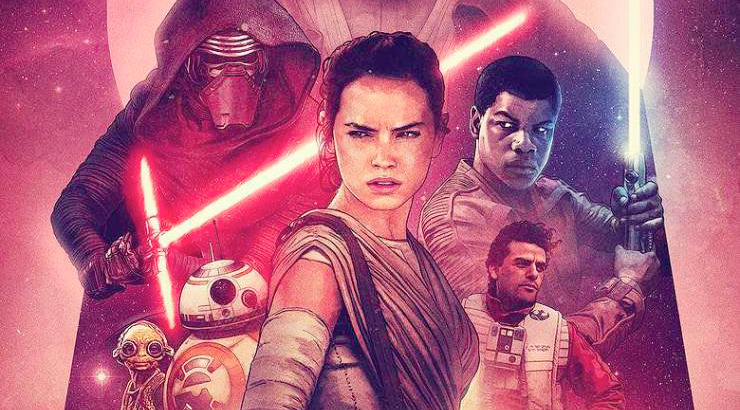 Victory? Victory you say? Master Obi-Wan, not victory. The shroud of the dark side has fallen. Begun Star Wars Bits has. This edition of news from a galaxy far, far away includes:
Full Disney Infinity 3.0 game will be available for Apple TV.
Latest box office predictions for Star Wars: The Force Awakens.
New art from Gallery 1988's The Art Awakens show.
Slave Leia merchandise is going up in price on eBay.
A cool flask made out of Han Solo's trademark pistol.
Adam Relf's impressive The Force Awakens poster.
New details on The Big Bang Theory's upcoming Star Wars episode.
The Force Awakens preview hitting Disney Channel on Thursday.
Awards season voters won't see The Force Awakens early.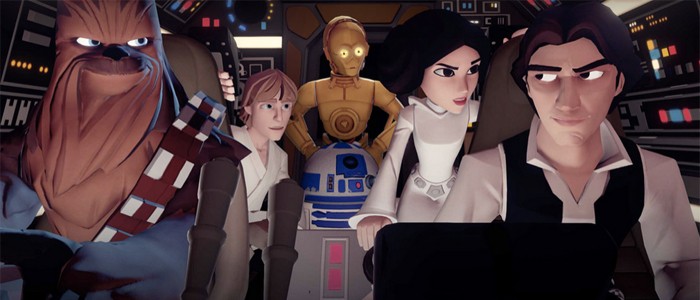 Until now, Disney Infinity has only been available on PC and game consoles, but now the toy-based video game will be available on the new Apple TV. A starter pack for Disney Infinity is now available in Apple Stores for $99. The pack gets you a wireless controller developed by SteelSeries Mobile and a black Bluetooth Disney Infinity Base, plus the Star Wars: Twilight of the Republic play set with Anakin Skywalker and Ahsoka Tano action figures. All the previously released Disney Infinity sets will work on the Apple TV once you have this starter pack.
We've heard the loading times on the Disney Infinity demo that features the Battle of Yavin experience are a little long, so we're not sure Apple TV is the best way to play. But if you're not shelling out $300 to $400 for a next-generation system, this isn't a bad option for the family. [Variety]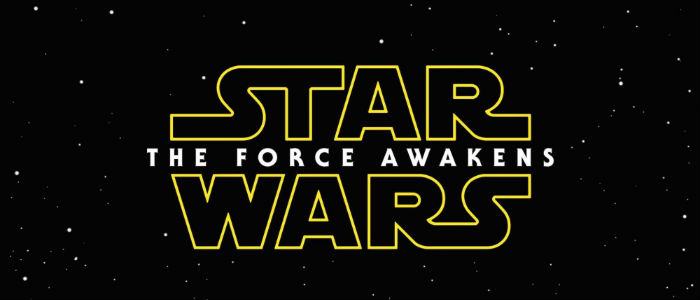 The latest box office estimates for Star Wars: The Force Awakens are in, and obviously the film is on track for a record-breaking weekend. As of now, the latest predictions have the movie raking in around $225 million, which would make it the biggest opening weekend of all time, besting previous record holders Jurassic World ($208 million) and The Avengers ($207 million). It probably helps that the movie is playing on more screens with more showtimes than either of the previous record-setting films. We'll see if The Force Awakens has what it takes in just over a month. [Collider]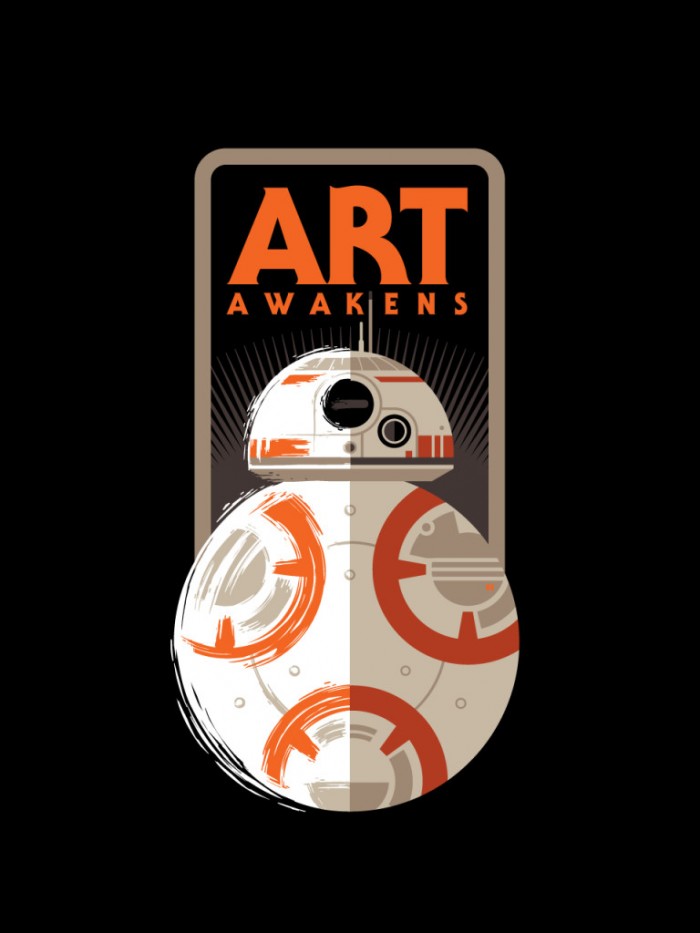 Finally, here are more pieces that will be part of Gallery 1988's The Art Awakens show coming up this weekend:
Get more details on the special show right here.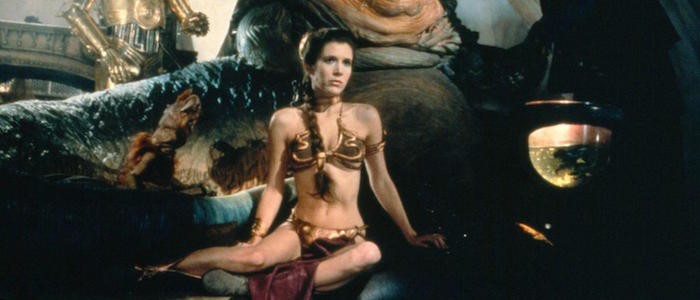 In the wake of news that Disney will retire any merchandise featuring Princess Leia in her slave outfit from Return of the Jedi, some of the action figures and statues featuring the risqué costume have gone up in price on eBay. Collectors are beginning to pick up what may be the last versions we'll see of the metal-bikini-clad figure in toy form. Some are going for nearly $750. [Bleeding Cool]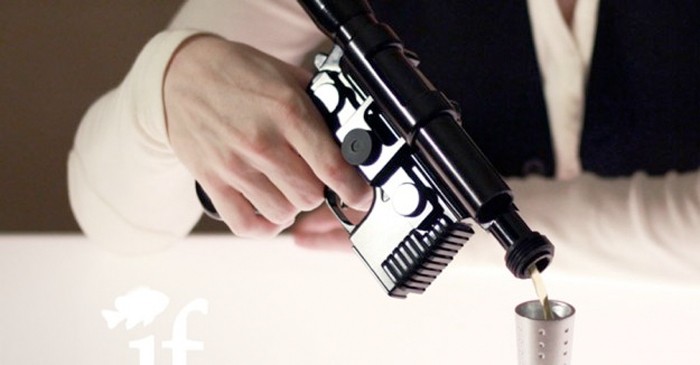 Han Solo may no longer shoot first in Star Wars: A New Hope, but he'll always do shots first with this flask that looks just like his trusty DL-44 heavy blaster pistol. So if you're cosplaying as Han Solo somewhere and you like secret drinking, this is the Christmas gift you should be asking for. The problem is that this is a custom creation, so you can't buy it yet. But the response to this creation has been so great that the makers are looking into turning it into a real product. Hokey religions and ancient weapons are no match for a good whiskey at your side, kid. [InsignificantFish]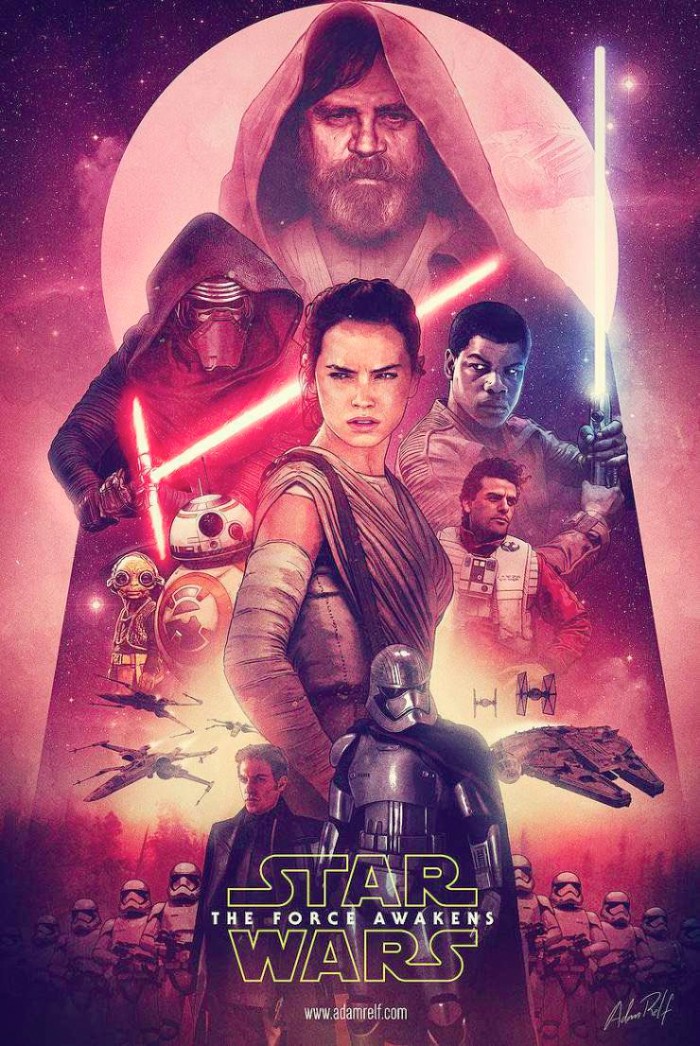 Artist Adam Relf created this poster for Star Wars: The Force Awakens, and The Force.net seems to think it was a poster pitch for the movie that didn't move forward as official marketing material. The link is hidden on the artist's website, but they somehow discovered the image through some digging. Some believe the poster was pitched and rejected because of the presence of Luke Skywalker, who has been kept under wraps in the marketing so far.
However, I'm not convinced that this was a poster pitch. That image of Luke just looks like it was drawn from a picture of Mark Hamill with a beard, combined with the leaked image of the actor on a photo shoot in Obi-Wan Kenobi robes. In addition, that illustration of Poe Dameron is just a drawing of the Vanity Fair photo that Oscar Isaac posed for, and that's not something that is usually done with these kind of posters. Other elements like Maz Kanata and Starkiller Base are situated exactly like they are on the final poster, so I think the artist just got creative and made a nice illustration by using elements that had already been released in some form or another. Either way, it's a pretty good-looking poster.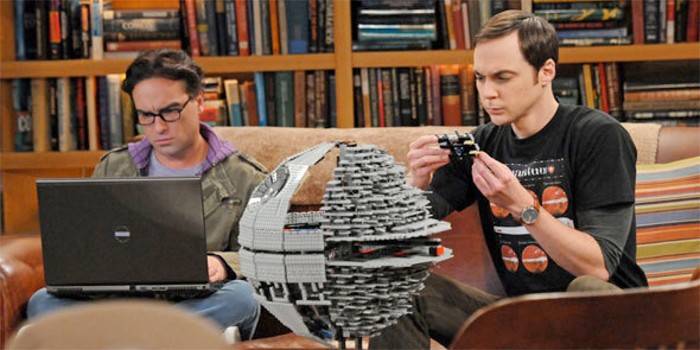 If you're fan of The Big Bang Theory and Star Wars, you'll be happy to know that there's a special episode of the CBS comedy series coming up that will see Bob Newhart returning in his guest role as Professor Proton. The character died a while back, but he now appears to Sheldon (Jim Parsons) as a Force ghost to give him advice like Obi-Wan Kenobi. There are supposed to be some other The Force Awakens surprises on the show, but we don't know what that means yet. [TV Line]
A new look behind the scenes of Star Wars: The Force Awakens is coming to The Disney Channel on Friday. You can see some glimpses of new footage, both from the movie and behind the scenes, but we're not sure how extensive of a look this will be just yet. We'll be sure to post if it's anything significant. [StarWarsUnderworld]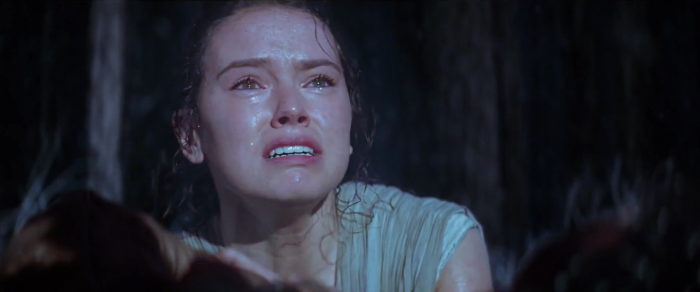 Star Wars: The Force Awakens will be the most talked-about movie this holiday season, but when it comes to awards, it's not exactly a frontrunner. Therefore, it should come as no surprise to hear from The Wrap that Disney is avoiding submitting the movie for certain awards honors, because they don't want to screen the movie early for critics and risk spoilers entering the blogosphere.
Awards from the National Board of Review, the New York Film Critics Circle, the Los Angeles Film Critics Association, and the Screen Actors Guild all have deadlines before the film is released on December 17th, and Disney doesn't want the film seen in its entirety before then. It's unlikely the movie would really have been up for those kind of awards anyway, so it's not a big deal.
That's all for this edition of Star Wars Bits. Stay tuned for more soon.