VOTD: 'Willy Wonka And The Chocolate Factory' Kids Reunite For 44th Anniversary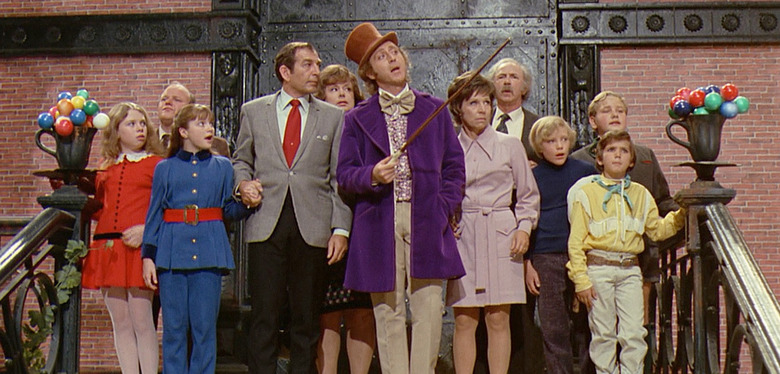 It's not exactly a milestone celebration, but this year marks 44 years since the release of Willy Wonka and the Chocolate Factory, the classic musical adaptation of Roald Dahl's classic book Charlie and the Chocolate Factory. To celebrate the occasion, the five golden ticket winners (Peter Ostrum, Paris Themmen, Julie Dawn Cole, Michael Bolner and Denise Nickerson) from the movie appeared on The Today Show to reminisce about the making of the movie, and chief Oompa Loompa Rusty Goffe accompanied them.
It's a pretty fun little interview, with part of the conversation turning to the disgusting chocolate river. As if you couldn't tell in the movie, it wasn't actually made of chocolate.
Here's The Today Show interview with a Willy Wonka and the Chocolate Factory reunion:
Bollner, who had to spend some time in the "chocolate river" as Augustus Gloop spilled the beans on the confectionery dream, reveals that it was in fact water that had been made to look like chocolate. I always thought the chocolate river looked pretty gross anyway, like chocolate milk made with that powder mix. Not all that appetizing.
It's a shame that Gene Wilder is basically retired and keeps to himself. It would be great to see him come out to talk about the movie, but he's also never been one to spend too much time looking at the past. Wilder is the primary reason that Willy Wonka and the Chocolate Factory still holds up so well, adding the perfect amount of twisted humor to the story.
Tim Burton also tried to make his version a bit strange with Charlie and the Chocolate Factory in 2005, but in his obnoxious, circus-like way that just felt far too artificial and weird just for weird's sake. Then again, I haven't liked much of Burton's work over the past 15 years, and plenty of people seem to enjoy it, so maybe it's just a generational thing.