LOL: '30 For 30' Recounts The Famous Boxing Match Between Rocky Balboa And Ivan Drago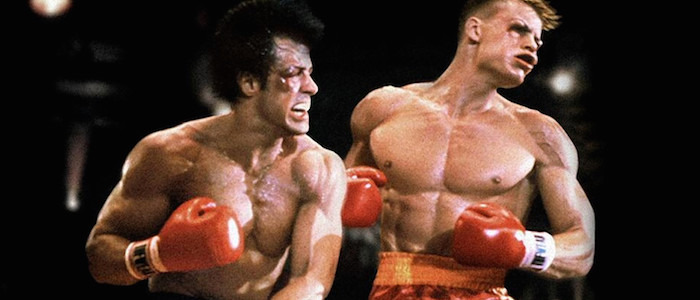 We know /Film is a movie website, but maybe you'll forgive us for delving into the wide world of sports for a moment. After all, few moments have impacted culture worldwide like the 1985 exhibition boxing match between Rocky Balboa and Ivan Drago. This event shook the sporting world to its core and rattled the foundation of international politics – the world was never the same after Drago hit the mat and Balboa stood triumphant. It's no accident that the Cold War finally came to an end a few years later.
Now, this astonishing match is finally getting the attention it deserves in a new episode of 30 for 30, ESPN's acclaimed documentary series chronicling the most important figures and events in the history of sports. Whether you were alive and watching in the days of Balboa's prime, or too young to realize just how much this event changed life on this planet, this is required viewing.
1985 was a strange time to be alive. The Cold War was still ongoing and people all over the world lived in fear of the coming nuclear armageddon. Ronald Reagan was in the White House, dividing Americans along lines that couldn't be drawn on an electoral map. Professional boxers had personal robot butlers. Back to the Future was brand new and wasn't yet the subject of a dozen art shows every year. And most importantly, boxing matches helped shape foreign policy. Buff men in shorts trading blows still had a significant impact on global politics.
This 30 for 30 plunges you into that strange time, and while it's significantly shorter than your average ESPN doc, it delivers all of the necessary information in one fast, powerful package.
The documentary doesn't dodge the unanswered questions. No one really knows exactly why a crowd of Russians would inexplicably decide to start cheering for the American in the ring. Few sports commentators have dared bring up whether Apollo Creed matching James Brown in a dance-off moments before entering the ring for the biggest fight of his life could have led to his downfall. The episode even touches on how the public still fails to acknowledge Balboa's contributions to bringing down the Berlin Wall and ending the Cold War. Perhaps that's why the retired legend, who now owns and operates an Italian restaurant in New York City, isn't among those interviewed. Like the best episodes of 30 for 30, this doesn't pull any punches (no pun intended).
This episode arrives shortly after an equally fascinating look at another strange time in sporting history. If you have a few more minutes to spare, the 30 for 30 on the miraculous rise of the California Angels during their 1994 season also makes for fascinating viewing.
And today, the legacy of Balboa and his peers continue to live on. In fact, there are rumors that Apollo's Creed's son has decided to follow in his father's footsteps, even asking the long-retired Balboa to train him. If so, this powerful story of human triumph finally has the epilogue (or is it a new prologue?) that it so richly deserves.