'Ride Along 2' Trailer: The Brothers In Law Hit Miami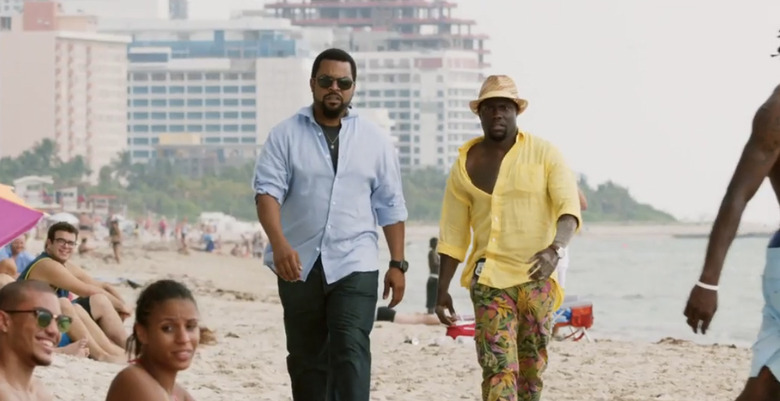 If you thought that Kevin Hart already proved that he was worthy of the love of Ice Cube's sister (Tika Sumpter) in Ride Along, think again. Just because Ben Barber (Hart) gained a little common ground with man of the law James Payton (Cube) doesn't mean the latter is ready to become brothers-in-law, whether it's through marriage or at the police station.
But when a drug trafficking problem requires some serious attention in Miami, for some reason Ben is allowed to tag along with James, making for his own tropical training day to prove his worth as a viable husband and police officer. Like most comedy sequels, it's basically the same formula repeated again with slightly different jokes, and this new Ride Along 2 trailer doesn't do anything to make us think otherwise.
Here's the new Ride Along 2 trailer from Universal Pictures:
There's a lot of mediocre stuff in this trailer, from the slapstick ceiling fan gag to Kevin Hart accidentally shooting someone again. But it's a little frustrating to see that caliber of humor when there's evidence of some decent writing here, especially with that ringtone scene.
But maybe Ken Jeong will add enough obnoxious flair to make this a little different than the first one (even though he only works in small doses). Plus, we've got Olivia Munn for Hart to piss off right along with Ice Cube, so surely he'll be getting slapped across the face by her a couple times throughout this case.
Meanwhile, the bad guy this time is played by Benjamin Bratt, while another villain of sorts steps up in the form of Sherri Shepherd as an intimidating wedding planner. As you can see, the stakes are pretty high.
Tim Story returns to direct with a script from the first film's writers Phil Hay and Matt Manfredi – the duo who also brought us the cinematic gem that was R.I.P.D., not to mention the trainwreck of a remake that was Clash of the Titans, and Jackie Chan's The Tuxedo. If you feel compelled to see more from Ride Along 2, check out the first trailer right here.
Kevin Hart and Ice Cube lead the returning lineup of Ride Along 2, the sequel to the blockbuster action-comedy that gave us the year's most popular comedy duo. Joining Hart and Cube for the next chapter of the series are director Tim Story, as well as Cube's fellow producers—Will Packer, Matt Alvarez and Larry Brezner—who will produce alongside Cube.
Ride Along 2 drives into theaters January 15, 2016.