'The Walking Dead' Casts Jeffrey Dean Morgan As New "Big Bad" Negan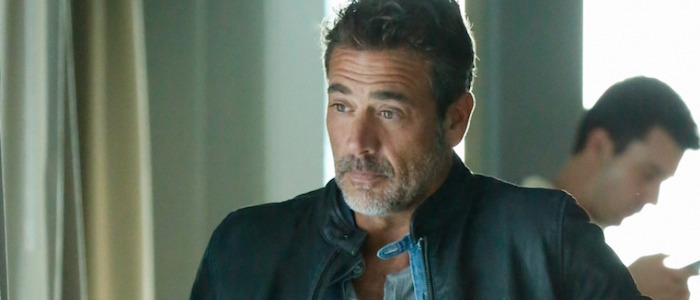 The Walking Dead remains one of the most frustrating shows on television. Fluctuating between genuinely thrilling genre filmmaking and insipid, wheel-spinning nonsense, no show on modern television demands that its fans grin and bear it quite like AMC's ever-popular zombie drama. But when it's good – and it has often been very good these past two seasons – it's one of the most visceral gun-punches available on any medium right now. It just took more than a few years of tedium to get there.
And now, the TV series is about to embark on one of its constantly terrific comic book counterpart's most famous and controversial storylines. The reliably great Jeffrey Dean Morgan has joined the Walking Dead cast as Negan, a human villain who makes David Morrissey's Governor look downright cuddly. This character has defined the past few years of the comic book storyline for writer Robert Kirkman and artist Charlie Adlard. If handled well, Negan is going to be a big deal on the show.
For more on the Walking Dead Negan casting, hit the jump.
The news of the casting was revealed over at The Hollywood Reporter, but be warned: their article doesn't shy away from the spoilers and show-watchers should tread carefully. We'll give you the spoiler-free rundown right here.
Negan is the vicious leader of a group that calls itself The Saviors, and he has found plenty of success running a racket in the zombie apocalypse. He forces communities to pay him with food and supplies in exchange for "protection," and let's just say that he doesn't take kindly to people who have the nerve to stand up to him. Armed with "Lucille" (a baseball bat wrapped in barbed wire) and a colorful way of speaking (showrunner Scott M. Gimple  is going to have to to find a way to replace his F-bombs), he's a unique threat because he's as intelligent and crafty as he is sadistic. To say that he and Rick Grimes don't get along is an understatement.
Morgan is no stranger to television and comic book adaptations. Film fans know him best as the Comedian in Zack Snyder's Watchmen, where he stole the movie right out from under a strong and varied ensemble. However, his recent bread and butter has been TV, where he's played key roles on The Good Wife, Extant, Supernatural, Grey's Anatomy, and Magic City. His ability to mix charm and menace should prove ideal for Negan, who needs to be charismatic and terrifying in equal measure.
Interestingly, THR reports that AMC and Gimple also looked at Justified star Timothy Olyphant and Deadwood veteran Garret Dillahunt for this role. In other words, they know what a big deal this character is, and were casting accordingly.
Negan is set to make his grand debut in the season six finale, which is about to begin filming in Atlanta and will air sometime next year. Morgan will be credited as a guest star for his season six episode, but will become a regular in season seven. If his introduction is anything like his first big scene in issue #100 of The Walking Dead comic, it'll be a doozy. If you want to delve into HUGE spoilers for the comics and show, and some possibly spoiler-y speculation, go ahead and highlight the paragraph below:
In one of the comic series' most infamous moments, Rick and his core crew are captured by The Saviors and brought before Negan, who decides to execute one of them at random. By random chance, he chooses Glenn, a.k.a. the one character everyone likes. His death is grotesque and horrifying and, well, long. This series has always been defined by its gnarly violence, but this is the most unpleasant moment in nearly 150 issues. The fact that it happens to such a beloved character makes it hurt all the more.So here's our theory: TV Glenn is most definitely not dead. His fate has been left ambiguous for reason, after all. He is alive and will miraculously return home, unscathed. Everyone will rejoice. Everyone will be happy that a fan-favorite has escaped certain death... only for him to reach his iconic and horrible comic book fate in the final moments of the season finale. 
In a season that has seen the show really settle into a strong groove on all fronts, this is great news. The Walking Dead has, against all odds, become totally watchable and good. Adding an actor as strong as Morgan, as character so creepy on the page, to the mix should stir the pot and set everyone up for a crazy season seven.