Watch: 'Ice Age' Animated Short 'Cosmic Scrat-Tastrophe' Takes The Squirrel To Space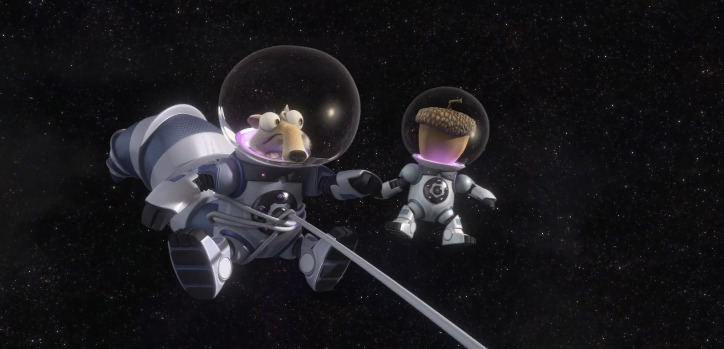 If you headed out to theaters this weekend to see The Peanuts Movie, then you got to see the latest Ice Age animated short Cosmic Scrat-tastrophe. The prehistoric squirrel Scrat has been chasing that acorn all over the place, but sooner or later he was going to run out of places to go on Earth, and that's why he's gone to space to chase his prize this time.
For those of you who happen to be Ice Age fans but don't feel compelled to see The Peanuts Movie (or maybe you have kids who just love watching squirrels chase acorns), the full Ice Age short is now available online for your viewing pleasure.
Here's the Ice Age short Cosmic Scrat-tastrophe from 20th Century Fox:
When the Ice Age franchise first started, it was mostly enjoyable, with some entertaining characters and unique animation. But now things are just getting out of hand. Apparently, the events of this short are the catalyst for the storyline of the upcoming sequel Ice Age: Collision Course, set for release on July 22nd, 2016. Here's the story:
Scrat's epic pursuit of the elusive acorn catapults him into the universe where he accidentally sets off a series of cosmic events that transform and threaten the Ice Age World. To save themselves, Sid, Manny, Diego, and the rest of the herd must leave their home and embark on a quest full of comedy and adventure, traveling to exotic new lands and encountering a host of colorful new characters.
The squirrel accidentally makes it to space, and creates some kind of world-ending scenario that affects the planet. That's just insane, even for a family movie. It just feels so far removed from what this series originally started as, and now it's just an excuse for the studio to round up a bunch of famous voices that kids don't even care about.
In case you didn't know, here's everyone lending their voice to Ice Age: Collision Course: Ray Romano, Denis Leary, John Leguizamo, Queen Latifah, Seann William Scott, Josh Peck, Simon Pegg, Keke Palmer, Wanda Sykes and Jennifer Lopez. Joining the herd are Stephanie Beatriz, Adam DeVine, Jesse Tyler Ferguson, Max Greenfield, Jessie J, Nick Offerman, Melissa Rauch, Michael Strahan and Neil deGrasse Tyson.
Let's just get Ice Age caught up to present day so we can have the creatures walking around New York City already. The series has to get there at some point, right? If Scrat can travel to space, time travel has to be just around the corner.