'Star Wars: The Force Awakens' TV Spot: Plenty More Footage Of The Next Generation's Story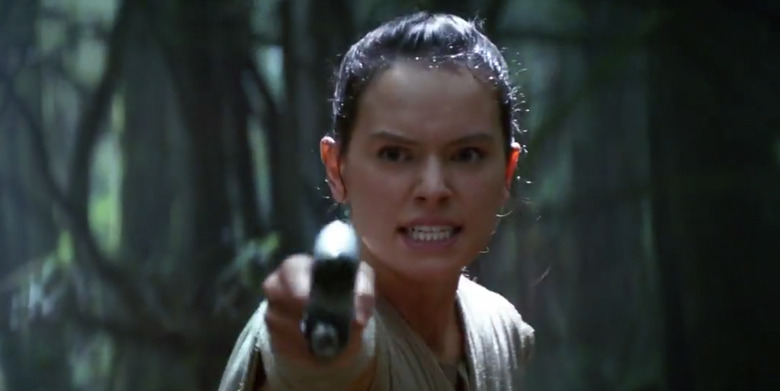 If the new footage in last week's international trailer for Star Wars: The Force Awakens simply wasn't enough, we have some good news. An official The Force Awakens TV spot has just popped up online with several bits of new footage and dialogue not seen in any of the previous trailers.
New footage includes some action shots Rey (Daisy Ridley) and Kylo Ren (Adam Driver), new voiceover from Maz Kanata, the motion-capture character played by Lupita Nyong'o, and new scenes of the aerial battle between the Resistance and the First Order. Check it out!
Here's the new TV spot for Star Wars: The Force Awakens:
The force is calling to you... Check out the first official TV spot for #StarWars #TheForceAwakens. https://t.co/tsKiEvZAK7
— Twitter (@twitter) November 8, 2015
The Maz Kanata voiceover combined with the text bumpers in between footage certainly tease the ties that our new characters have to the iconic heroes from the original trilogy. Kanata says:
"I have lived long enough to see the same eyes in different people. I see your eyes. I know your eyes."
But again, we're not sure whether she's talking to Rey or Finn (John Boyega). However, this TV spot would seem to indicate the former is the subject with all the action shots she gets, from shooting a blaster at Kylo Ren, who deflects it with his cross guard lightsaber, to flying the Millennium Falcon.
Whether it's Finn or Rey, Kanata seems to be hinting that their eyes share some kind of connection with someone else she has encountered, perhaps even Luke Skywalker (Mark Hamill). At the same time, this could just be an allusion to the idea that when she looks into one of their eyes, she sees a hero, the very person that assures her that hope is not lost.
In addition, that bumper that says "Every generation has a story," certainly hits home the concept that this new trilogy will be about the next generation of heroes, and some of them will certainly have a connection to those we know from the original trilogy.
Don't count on getting any answers in the TV spots leading up to the movie, but as long as we keep getting sweet new shots of the Millennium Falcon like this, as well as new shots of the even more gruff Han Solo (Harrison Ford) in the snow calling back to The Empire Strikes Back, then that's just fine with me.
Star Wars: The Force Awakens arrives on December 17th next month.