Watch Five Minutes Of 'Creed' As Philadelphia Gives The Movie An Honorary Day This Month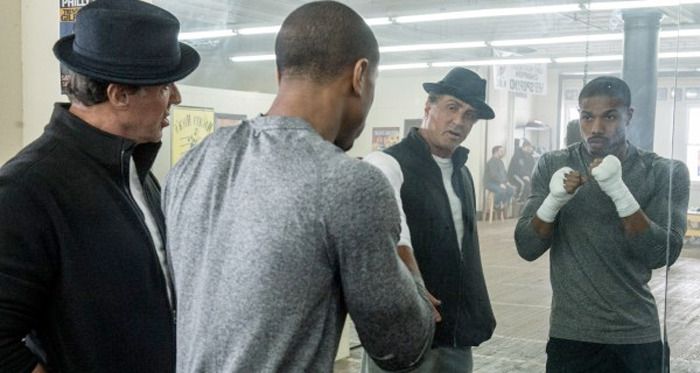 The steps of the Philadelphia Art Museum have become quite iconic thanks to the famous training montage from the original Best Picture winning boxing drama Rocky. Plenty of tourists have ran up those steps and taken countless pictures there in honor of Sylvester Stallone's iconic character Rocky Balboa, and now the city of Philadelphia is honoring the forthcoming franchise spin-off Creed with an honorary, celebratory day.
In addition, you can watch just over five minutes of footage from Creed with seven clips that have been released online as we get closer to the release later this month. Get more details on the honorary day and watch the batch of Creed clips after the jump.
First, here's the five minutes of footage from Creed (via Collider):
Director Ryan Coogler along with Stallone and his new co-stars Michael B. Jordan and Tessa Thompson were on hand in Philly for the proclamation of Creed Day on November 25th, which is the day the film hits theaters. They were all given individually inscribed miniature Liberty Bells to mark the occasion by Mayor Michael A. Nutter, who received a framed rendering a mural that was created in tribute to the city at the Front Street Gym in North Philly, a prominent location in Creed.
At the iconic steps that feature a statue of Stallone as Rocky (both of which will also be seen in Creed), the original franchise star had this to say:
"I was just thinking the other day that everything I have leads directly to the genesis of 'Rocky,' but what's amazing is this character and these stories have stayed around without any special effects, without any car chases, without blowing anything up, which is what I usually do. That's why I think it's so phenomenal, because the generation that wasn't around when we did the third one –forget the first one- that they would embrace this and take it to a new level. So yeah, I'm very proud and stunned that here we are on the seventh one, but you're actually in 'Creed 1.' So Rocky's story is done, this is now the beginning, hopefully, of a whole new series. It just continues to go on."
And since we've heard from Michael B. Jordan that Creed is meant to be the first in a new franchise, it shouldn't be surprising to hear Stallone refer to it as "Creed 1," confirming plans for sequels to follow. And how does Jordan feel about continuing this long legacy with such an iconic character at his side? The actor said:
"It's an honor to be accepted into this legendary world that's been around for forty years, longer than I've been alive. To be trusted with these characters that Sly built his career on it's an honor. The team that we have, our cast, and our fearless leader Ryan, I never felt more safe and willing to take risks and chances and experiment. Sly did the biggest thing which was to take that pressure off of me and not worry about living up to what the Rocky's were. Just to be myself and do what we're doing."
With all this talk of passing the torch and hints in trailers of Rocky not doing so well in Creed, you have to wonder if the legendary fictional boxer will make it through this movie until the end. We'll have to wait a few weeks to find out. In the meantime, you can watch the most recent trailer for Creed right here.
Adonis Johnson (Michael B. Jordan) never knew his famous father, world heavyweight champion Apollo Creed, who died before he was born. Still, there's no denying that boxing is in his blood, so Adonis heads to Philadelphia, the site of Apollo Creed's legendary match with a tough upstart named Rocky Balboa.
Once in the City of Brotherly Love, Adonis tracks Rocky (Sylvester Stallone) down and asks him to be his trainer. Despite his insistence that he is out of the fight game for good, Rocky sees in Adonis the strength and determination he had known in Apollo—the fierce rival who became his closest friend. Agreeing to take him on, Rocky trains the young fighter, even as the former champ is battling an opponent more deadly than any he faced in the ring.
With Rocky in his corner, it isn't long before Adonis gets his own shot at the title...but can he develop not only the drive but also the heart of a true fighter, in time to get into the ring?
Creed hits theaters on November 25th.