LOL: James Bond Rents A Car From Stephen Colbert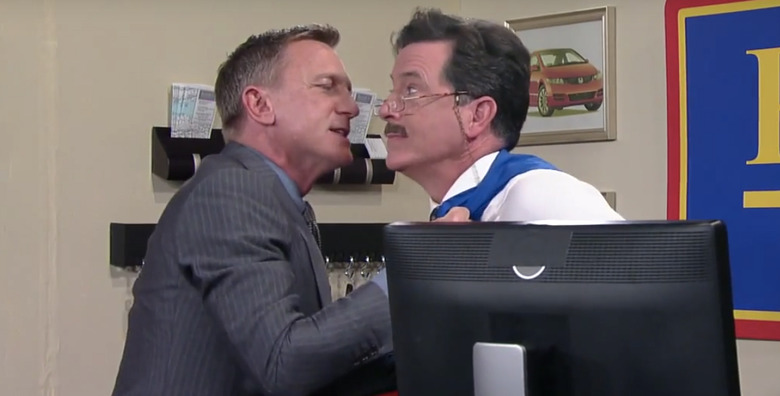 There are plenty of things that the James Bond franchise is known for, from gadgets to girls. And one of those iconic elements is the legion of fancy cars equipped with all sorts of goodies for 007 to use against his enemies. The only problem is that every single time Bond gets a new car, he ends up absolutely destroying it. And Stephen Colbert has had enough.
On The Late Show with Stephen Colbert, the talk show host revealed a new "clip" from Spectre, featuring a cameo from Colbert himself. Daniel Craig, as James Bond, is in need of a rental car as he's desperate to escape from assassins. But before he gets a new vehicle, he has to go through all the red tape and rigmarole of applying to get one. You can guess what happens when Colbert asks for his name.
Here's the Stephen Colbert James Bond sketch on The Late Show. Hopefully you've figured out by now that this isn't an actual scene from Spectre.
Daniel Craig has hosted Saturday Night Live before, and it's clear that he doesn't quite have the same caliber of comedic chops as he does action-oriented and dramatic ones (which is probably why he's not hosting again this year to promote Spectre). But it's rather amusing to see Craig struggling not to laugh when he's forced to use his strength to get a rental car fast and now, and he actually does a good job acting a bit embarrassed when his rental history is checked.
There's nothing particularly brilliant about this sketch, but it's helped by having Daniel Craig there as James Bond as opposed to if it was just another comedian in the role. Plus, Colbert is a seasoned veteran of comedy with roots in Second City, so he knows how to sell something that's average and elevate it a bit. Speaking of selling, who is willing to bet that Chevrolet is a sponsor of The Late Show with Stephen Colbert?
Don't forget, if you've got thousands of dollars lying around and you're a big James Bond fan, you can have your very own 007 edition Aston Martin for only $237,007. But there's no ejector seat or bulletproof glass, so if you plan on getting into spy shenanigans while going out for a drive, you might want to be careful.
Otherwise, you can see Spectre starting with some evening shows in certain theaters tonight and everywhere tomorrow.