'Fantastic Beasts And Where To Find Them' Uncovers New Plot And Character Details [UPDATED]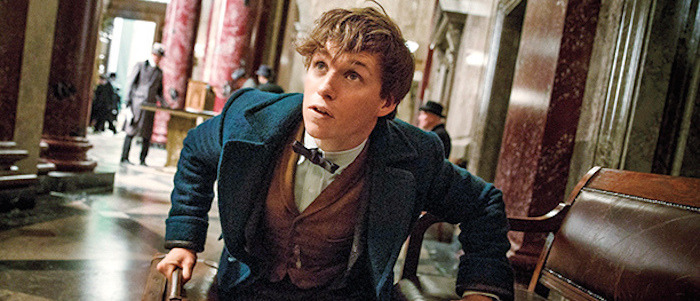 Update: Descriptions of the film's main characters have now arrived. You can find them after the jump.
The floodgates on Fantastic Beasts and Where to Find Them have slowly begun to slide open. In quick succession, we got the film's logo and then our first look at the Harry Potter sort-of-prequel's main character, Newt Scamander (played by Eddie Redmayne). Now, we have new plot details from the J.K. Rowling-scripted, David Yates-directed film.
These details don't reveal much more than the film's basic premise (most of which will probably be seen in a future trailer), so don't be afraid to read on. Unless you're deliberately putting yourself into total spoiler-lockdown mode. In that case, you know what to do.
Fantastic Beasts and Where to Find Them is not a direct Harry Potter prequel, but it takes place in Rowling's beloved Wizarding World. Just 70 years earlier. And in New York City. The title is derived from from one of the textbooks frequently mentioned by the students attending Hogwarts. Its author is the main character in what Warner Bros. hopes will be a new series of movies.
Now, thanks to EW, we know more. Here's the basic shape of the movie's plot, which sounds downright charming:
Eccentric magizoologist Newt Scamander (Oscar winner Eddie Redmayne) comes to New York (for a reason we won't disclose) with his trusty weathered case. This case is one of those way-way-way-bigger-on-the-inside magical devices, and within are expansive habitats for a collection of rare and endangered magical creatures from Newt's travels around globe. He discovers the American wizarding community is fearfully hiding from Muggles (who are called "No-Maj" in the States) and the threat of public exposure is an even graver concern than in the UK (remember the Salem witch trials?). Fantastic Beasts is the story of what happens when this uniquely skilled English wizard travels to wiz-phobic America and a variety of his creatures, some quite dangerous ... get out of their case.
The previously released images from the film have showcased Newt's briefcase and we now know why. After all, wands are so passé now – you've got to give the Muggle, uh, No-Maj fans a new kind of magical object to obsess over.
While the basic plot of the movie sounds fun – magic animals on the loose in 1926 New York City? Sign us up! – it's the details about the American wizarding world that sound truly tantalizing. The best aspect of the Harry Potter novels and films is the rich environment Rowling built to house her story and characters. Like the best fictional universes, it's a place you want to inhabit and explore. Everything feels so fully realized and so thought through. Fantastic Beasts and Where to Find Them taking us across the Atlantic is exciting stuff. What are American witches and wizards like? How do the cultures differ beyond the accents? This movie is giving Rowling and Yates a new corner of an sprawling canvas, and we can't wait to obsess over every detail.
And if that plot description is any indication, Rowling will work some of her sly social and political commentary into the narrative. It's probably no accident that the American wizarding community seems to be living in a constant state of fear.
Fantastic Beasts and Where to Find Them will arrive in theaters on November 18, 2016.
Update: Entertainment Weekly has revealed a batch of character descriptions for the film's main characters. You can get the full descriptions at the link above, but here is a quick rundown:
Newt Scamander (Eddie Redmayne): Our hero, a "magizoologist" who likes animals more than people, who journeys to America with a magical case full of extraordinary creatures.
Porpentina "Tina" Goldstein (Katherine Waterston): An ambitious employee of the Magical Congress of the United States of America who befriends Newt.
Queenie Goldstein (Alison Sudol): Tina's younger sister, who can read minds.
Jacob Kowalski (Dan Fogler): The first "Muggle" main character in the series who gets swept into the action by circumstances not yet explained.
Graves (Colin Farrell): An auror (aka, wizard cop) and "right-hand man" to the President of the American Wizarding world.
Mary Lou (Samantha Morton): The villainous leader of "The Second Salemers," a group that certainly sounds like it has nasty plans in store for our heroes.
Credence (Ezra Miller): Mary Lou's mysterious adopted son.
You can see some of these new cast members in the photo below. From left to right: Tina, Newt, Queenie, and Jacob.