Noomi Rapace To Play Amy Winehouse In New Biopic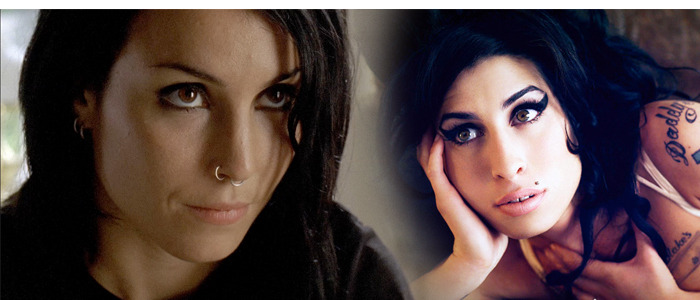 After a documentary about the singer's life hit theaters earlier this year, the late Amy Winehouse is now in line to get the biopic treatment as well, and an impressive actress may be lined up to play her.
Noomi Rapace (Prometheus, The Girl With the Dragon Tattoo) is currently in talks to play the British soul singer, who tragically died four years ago due to a lethal amount of alcohol intoxication after battling with addiction. However, it may not be the only Winehouse project in the works.ScreenDaily reports that this biopic (tentatively titled Amy Winehouse) from August Rush and In America director Kirsten Sheridan is making the rounds at the American Film Market right now. However, Winehouse's father Mitch Winehouse is supposedly working on a separate project in honor of his daughter.
As of now, we don't know the status of the latter project, though he aims to clear up the depiction of his relationship in Asif Kapadia's documentary Amy. E! Online quotes him as saying:
We're going to invite everyone that's spoken on the other film and we're not going to edit it, like they've edited me, and we're going to tell the truth about Amy's life because this is not.
The documentary Amy reportedly depicts Winehouse's father as opportunistic, failing to help her when she needed it the most and opting to continue raking in money from her career. It wouldn't be the first time a parent has taken advantage of their offspring's career in the entertainment industry.
Neither of the projects necessarily sounds like they could move forward immediately. First of all, Mitch Winehouse's project is being made out of spite, almost like a political ad for himself to fight against his critics. And if people believe what's on display in the documentary, I can't imagine anyone throwing support behind that kind of project.
As for Sheridan's Amy Winehouse biopic, not only is it out to buyers at the American Film Market, where projects attempting to spark die off all the time, but they're still negotiating the music rights as well. So there's still a lot of work to be done on the project by Subotica Films, the company behind the Jimi Hendrix biopic Jimi: All is by My Side. But with a lead like Noomi Rapace, who even looks similar to the late soul singer, this could be be a very well-acted story, even if it simply tells the familiar story of addiction and fame that we've seen with countless other music biopics.
Rapace has the sequel to Prometheus with Ridley Scott lined up, and she'll soon star opposite Christian Bale as automobile icon Enzo Ferrari in a movie by Michael Mann. Stay tuned to see how these projects pan out.