Director Shane Carruth Wrangles A Bunch Of Movie Stars For 'The Modern Ocean'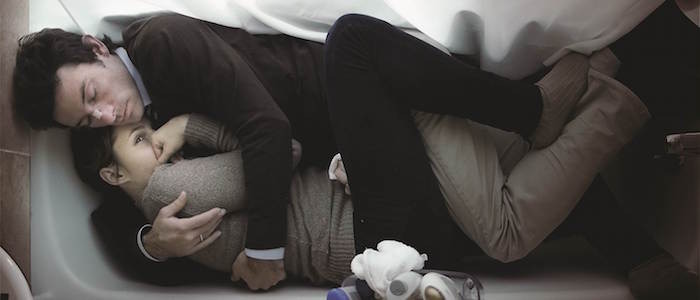 It took director Shane Carruth nine years to make a follow-up to 2004's time travel instant-classic Primer. Thankfully, 2013's Upstream Color was a remarkable sophomore effort, a science fiction tinged drama that was as emotionally moving as his debut feature was mind-bending. Even more thankfully, we won't have to wait nearly a decade for this third movie. His new movie is on the way and its already assembled a jaw-dropping ensemble.
We already knew that The Modern Ocean would be Carruth's first step into big-budget filmmaking, but no one saw this cast coming. The man who once worked miracles with a couple thousand bucks is now commanding a cast that includes Anne Hathaway, Keanu Reeves, Daniel Radcliffe, Chloe Grace Moretz, Tom Holland, Asa Butterfield and Jeff Goldblum. More details on the Modern Ocean cast can be found after the jump.
For those keeping score, that ensemble includes Fantine, John Wick, Harry Potter, Hit-Girl, Spider-Man, Ender Wiggin, and Dr. Ian Malcolm. The only name in the line-up you may not instantly recognize is Abraham Attah, who recently had his big breakout role in Beasts of No Nation. That cast would be enough to get us excited for any movie, but for the latest movie from an artist as inspired as Carruth? That's just unfair to most other movies.
What kind of movie needs Keanu Reeves and Jeff Goldblum? Only the movies that should be on your radar, apparently.
The news comes from the American Film Market (via The Hollywood Reporter), where distributor FilmNation will be using the film's star power to attract international buyers. Of special interest is the mention of a 200-page screenplay filled with pictures and diagrams. Yep, this certainly sounds like a Shane Carruth movie.
Here's how THR describes the plot of The Modern Ocean:
The storyline revolves around vengeance and the fierce competition for valuable shipping routes and priceless materials that converge in a spectacular battle on the rolling decks of behemoth cargo ships.
That's awfully vague. How about a description from FilmNation itself:
This epic tale, fraught with danger and intrigue, takes us from the ancient trading houses of Algeria to the darkest depths of the ocean floor.
Okay, all of this sounds evocative and complex and intentionally vague... which makes it sound like the natural successor to Primer and Upstream Color. The producers of the film also threw around statements like "enormously inventive, but grounded in arcane reality" and "will draw audiences into a secretive world filled with mysterious technologies and bitter rivalries," just in case you wanted more to ponder.
But how does Carruth himself describe the project? While promoting Upstream Color two years ago, he described The Modern Ocean as a tragic romance:
It's set against shipping routes all over the world. It's basically, at its core, a truly tragic romance, but it's in a world full of pirates and privateers, and ships at war at sea.
Everything we've heard makes this movie sound like a big action adventure, which makes it a far cry from the small scale, low key dramas that have defined Carruth so far. Still, we're confident that his voice will survive the leap into this kind of filmmaking. After all, here's a filmmaker who takes his sweet time and fills his scripts with diagrams. He's not changing for anyone. Few things intrigue us more than what Carruth will do with this kind of movie and with that cast.