New 'Batman V Superman' Plot Synopsis Reignites Your Geeky, Late-Night Debates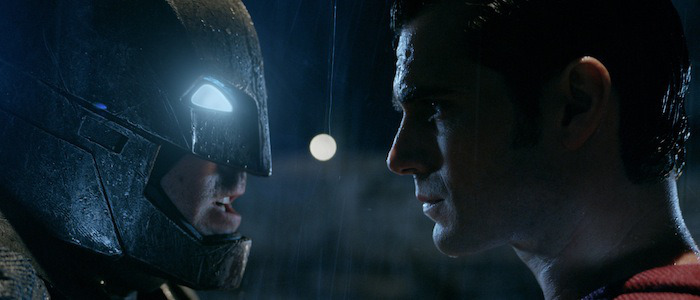 It's a conversation you've had countless times before. You had it at sleepovers when you were a young kid. You argued over it in the aisles of your friendly neighborhood comic book shop. You chatted the semantics of such a showdown in late-night, half-drunk dorm room discussions. You regularly debate the details on internet forums.
Who would win in a fight between Batman and Superman?
That question is the main appeal of Batman v Superman: Dawn of Justice. Everything else, no matter how effective, is ultimately window-dressing. People are going to see this movie, and we are going to talk about it until our voices die in our ruined throats, because that is the age-old hypothetical pop culture question. A new synopsis for Zack Snyder's upcoming film takes this fact and works it straight into the plot description.
The Batman v Superman plot synopsis doesn't tell us much that we didn't already know, but it's framed in a more playful way than our last info-dump. Comic Book Movie found this description of the film through Odeon Cinemas, one of the U.K.'s largest theater chains, so it's possible that it was just cooked up in-house to help sell tickets. However, there are some rather specific turns of phrase here that make us think this is a new official description, albeit one that may be utilized only in certain markets. Anyway, here it is:
At long last, see Batman and Superman square off against each other in 'Batman V Superman: Dawn Of Justice', an epic superhero showdown which will change both their lives forever.
Clark Kent doesn't trust Gotham's mysterious masked vigilante. Bruce Wayne doesn't trust the alien who nearly destroyed Metropolis. And Lex Luthor, who hates Superman more than anyone, is manipulating both of them for his own twisted ends.
Choose your side: the Man of Steel or the Dark Knight? Learn the answer to the age-old question – who would win? – in 'Batman V Superman: Dawn Of Justice'.
Folks who have been following the production of this film knew that Lex Luthor bit already, but it's the kind of detail we'd expect in an official, studio-sanctioned release, not something an intern whipped up on a slow day. In any case, any plot description is all "This guy feels this way and the other guy feels that way so Let Them Fight" is a plot description we can get behind. Bruce Wayne wants nothing more than to sock the big blue boy scout in the nose, after all.
And while we're on the subject of Batman and Superman exchanging punches to their chiseled jaws, Total Film (via The Playlist) caught up with Snyder and asked him the question that has defined the Batman vs. Superman debate for decades. How, exactly, does the squishy, mortal Bruce Wayne survive even three seconds against the Man of Steel? His response:
The advantage that Batman has is the goodness of Superman; the compliance to fair play that Superman has... Batman knows how to exploit Superman.
In other words, Batman would never stand a chance against Superman if he wasn't morally righteous. Then again, Superman wouldn't be Superman if he wasn't morally righteous, so that wouldn't be a fight between Batman and Superman. The debate continues!
Batman v Superman: Dawn of Justice opens on March 25, 2016.