Showtime's 'Twin Peaks' Revival Pushed To 2017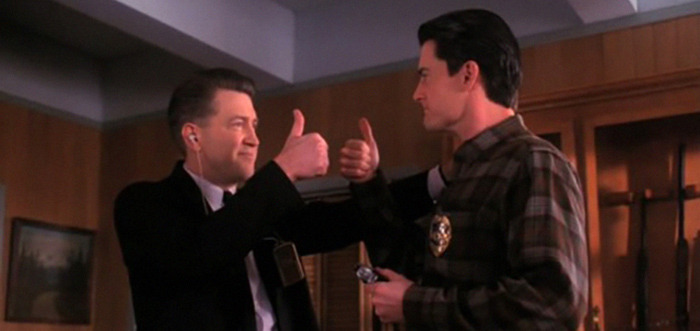 It takes time to brew a damn fine cup of coffee, apparently. David Lynch's Twin Peaks limited series is now slated to premiere in 2017, rather than 2016 as previously expected. Les Moonves, president and CEO of CBS Corporation (which owns Showtime), confirmed the Twin Peaks delay this week. More about the Twin Peaks 2017 release after the jump. 
Variety broke the news. Moonves revealed during CBS' third-quarter earnings conference call that the Twin Peaks limited series will arrive in 2017. That said, the company clearly still has big hopes for it. Moonves predicted it would help drive up subscriptions of Showtime's recently launched standalone streaming service.
One Showtime rep insisted to the trade that a late 2016 release was still possible. But we wouldn't hold our breath. But Showtime's David Nevins has also acknowledged that Twin Peaks could get pushed to 2017, and Moonves' comments indicate that is indeed the new plan. 2016 marks the 25th anniversary of the end of the original Twin Peaks series, which aired for two seasons on ABC.
Much of the talent from the earlier run is returning. Co-creators Lynch and Mark Frost wrote the scripts and Lynch is directing all the episodes. Kyle MacLachlan reprises his role Dale Cooper. While he is the only returning cast member officially announced so far, Sheryl Lee has been spotted on set and Sherilyn Fenn, Dana Ashbrook, David Patrick Kelly, and Richard Beymer are all rumored to return.
And don't worry, it won't just be old-timers hogging all that damn fine coffee. Cast members new to Twin Peaks will include Balthazar Getty, Amanda Seyfried, Peter Sarsgaard, Robert Knepper, and Jennifer Jason Leigh. In addition, Lynch is reportedly courting his Mulholland Drive star Naomi Watts.
Showtime announced its intention to bring back Twin Peaks over a year ago. Initially, the plan was to make nine episodes to air sometime in 2016. But arguments over the budget and number of episodes led Lynch to walk away. Showtime and Lynch were eventually able to work out a new deal for an unspecified number of episodes. We know it's more than nine, and possibly as many as 18.