Go Behind The Scenes Of That Spectacular Single-Shot Sequence In 'The Final Girls'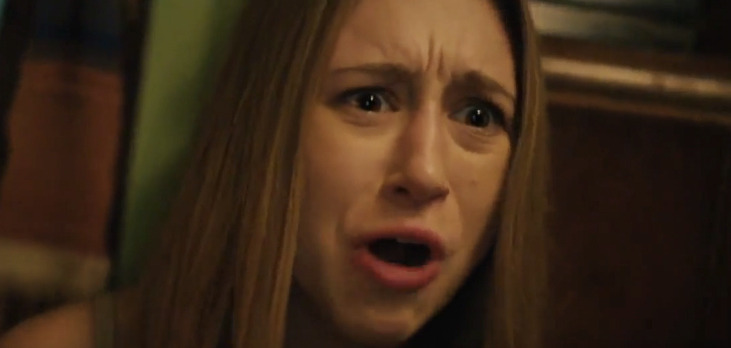 We may receive a commission on purchases made from links.
Around the time that The Final Girls hit limited theaters and VOD, we showed off some pages from the production diary that helped director Todd Strauss-Schulson plan his stunning, meta horror comedy. And now that the film is hitting Blu-ray and DVD today, we have another cool behind the scenes feature to show you.
In The Final Girls, there's a key sequence that was pulled off in a single impressive shot. (If you've seen it, it's the part when the camp counselors and kids trapped in Camp Bloodbath try to trap the killer.) I was sure that visual effects were used to combine several different shots into one, but now we can show you on-set footage of The Final Girls single shot being completed by a programmed camera rig that made it possible. And if you haven't seen the movie, don't worry, because we have the finished clip from the movie too. Watch!
First, here's the finished shot from The Final Girls:
And now here's the camera rig in action, shooting in one continuous take:
For those curious, Strauss-Schulson tells us that camera is the Genuflex MK III by General Lift, "a programmable motion control camera that can track 7 feet per second and swing, pan, tilt, and roll 360 degrees, all while automatically focusing a camera." And as you can see in the video, "it can also produce multiple takes with inhuman precision, repeating the exact same motions over and over within fractions of a millimeter, like a robot in a car factory that can hold a camera." He also explains:
It's never really been used before in a movie like this– to find a visual way to create a mindstate. This particular sequence is a panic attack, and I wanted to find a visual way to create that swirling out of control vortex of panic you feel during an anxiety attack.
This sequence was shot in a single day, and they ran through it about 12 times. But before it went in front of cameras, they did previsualization in order to show how complex the sequence was going to be in order to effectively pull them off on set. And you can check out the previz sequence right here:
The Final Girls is out on Blu-ray and DVD today, chock full of plenty of behind-the-scenes extras, deleted and extended scenes, and commentary from the director along with cast members Taissa Farmiga, Thomas Middleditch, Angela Trimbur, production designer Katie Byron and director of photography Elie Smolkin. It's worth picking up immediately.
When Max (Taissa Farmiga) and her friends reluctantly attend an anniversary screening of "Camp Bloodbath", the infamous '80s horror film that starred Max's late mother (Malin Akerman), they are mysteriously sucked into the silver screen. They soon realize they are trapped inside the cult classic movie and must team up with the fictional and ill-fated camp counselors, including Max's mom as the scream queen, to battle the film's machete-wielding killer. With the body count rising in scene after iconic scene, who will be the final girls left standing and live to escape this film?