'Kung Fu Panda 3' Trailer: Father, Son And Their Bellies Are Reunited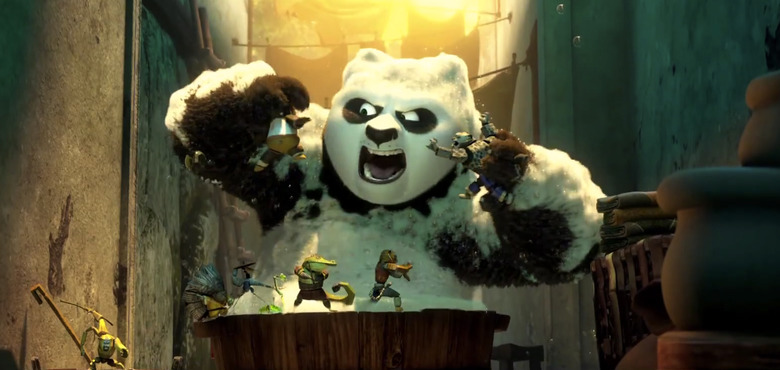 If seeing Jack Black bring a rather peculiar version of R.L. Stine to life in Goosebumps last month wasn't your cup of tea, maybe you'll be more pleased with his return to animation in Kung Fu Panda 3, arriving early next year.
A new Kung Fu Panda 3 trailer has just arrived, giving us more of Po (Black) being reunited with his estranged father (Bryan Cranston). As teased at the end of Kung Fu Panda 2, there's a whole panda village waiting to meet Po, but the reunion isn't all bamboo and laughs when a new evil threatens to obliterate them.
Here's the new Kung Fu Panda 3 trailer from 20th Century Fox:
That's J.K. Simmons (Whiplash) as the new villain, who is a little too chatty for Po to deal with when the time comes for their final confrontation. And he's the reason Po has to step up from student to teacher, so his new panda friends can stand up to the mystical villains. Of course, he's not alone since the Furious Five (voiced by Jackie Chan, Lucy Liu, Angelina Jolie, David Cross, and Seth Rogen) and Master Shifu (Dustin Hoffman) are there to fight alongisde him.
Clearly clumsiness runs in the panda family as they initially seem to be just as hopeless as Po was when he first started his training. Though I will say that Kate Hudson (who replaced Rebel Wilson) as Mei Mei seems like a promising warrior to fight alongside Po. Surely when all is said and done they will be able to defend themselves rather well, and Po will again be the hero that he never though he could be.
Anyway, these films have always been fun action adventure romps for the whole family, with fight sequences rivaling those done in live-action blockbusters. And Black has always been pitch perfect in the lead role, never feeling like he's phoning it in. If you want to see more from Kung Fu Panda 3, check out the previous trailer for the sequel directed by Alessandro Carloni (Me and My Shadow) and Jennifer Yuh (Kung Fu Panda 2) right here.
When Po's long-lost panda father suddenly reappears, the reunited duo travels to a secret panda paradise to meet scores of hilarious new panda characters. But when the supernatural villain Kai begins to sweep across China defeating all the kung fu masters, Po must do the impossible—learn to train a village full of his fun-loving, clumsy brethren to become the ultimate band of Kung Fu Pandas!
Kung Fu Panda 3 hits theaters on January 29th, 2016.