'Jessica Jones' Episode Titles And Summaries Are Here To Drink Heavily, Punch You In The Face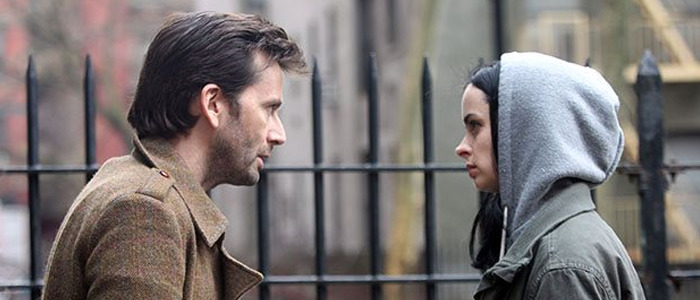 All eyes are on Jessica Jones, Marvel's latest foray into the world of Netflix, and for good reason – it looks good, early buzz has been promising, and the episode that played at New York Comic-Con excited even the most jaded superhero fans in the crowd. At this point, most of you who would click on an article about Jessica Jones are already going to watch it. Some of you may already be planning to binge-watch the whole thing when it drops in a little over two weeks.
So know that episode titles and brief synopses of every episode on the show have arrived on Netflix, and they're not for the spoiler-phobic. They're not for true spoiler-hounds either. They're vague, one-sentence descriptions that never go into detail and exist solely tease the shape of an episode. So if you're up for some minor Jessica Jones spoilers and want to know the general shape of the season, keep on reading. If you want to avoid spoilers of any kind, don't say we didn't warn you.
Really. We're going to warn you one more time, guys. These are minor spoilers, but they are still spoilers. Don't take to the comments moaning about spoilers. We warned you. Like, three times now. If you don't want to know anything about the alcohol-soaked adventures of Krysten Ritter's superhero-turned-P.I., turn back now.
So, without further ado, here at the episode titles and episode descriptions:
AKA Ladies Night: Jessica Jones is hired to find a pretty NYU student who's vanished, but it turns out to be more than a simple missing persons case.
AKA Crush Syndrome: Jessica vows to prove Hope's innocence, even though it means tracking down a terrifying figure from her own past.
AKA It's Called Whiskey: It won't be easy to acquire or deploy. but Jessica thinks she's found a weapon to use against Kilgrave. Luke and Jessica bond over their similarities.
AKA 99 Friends: A new case demands attention as Jessica tries to find out who's spying on her for Kilgrave. Trish's radio show yields unexpected consequences.
AKA The Sandwich Saved Me: Despite Jessica's objections, Trish's new friend Simpson gets involved in the hunt for Kilgrave. Jessica recalls a pivotal moment in her life.
AKA You're a Winner: Luke hires Jessica to help him find someone who may have skipped town, but she fears he'll learn too much about her history in the process.
AKA Top Shelf Perverts: Malcom, Simpson and Trish go rouge to prevent Jessica from carrying out an extreme plan to outwit Kilgrave.
AKA WWJD: Jessica experiences a strange homecoming courtesy of Kilgrave. Hograth's conflict with her estranged wife reaches a tipping point.
AKA Sin Bin: Just when Jessica has Kilgrave right where she want's him. Hogarth's involvement complicates the situation. Details of Kilgrave's past emerge.
AKA 1,000 Cuts: A discovery has the potential to change the entire game — if Jessica can refuse Kilgrave's offer.
AKA I've Got The Blues: Jessica searches morgues for clues. Trish goes all out to keep Simpson from getting in Jessica's way. Malcom has an epiphany.
AKA Take a Bloody Number: The hunt for Kilgrave reunites Jessica with Luke. Trish receives some unexpected information about Simpson and Jessica.
AKA Smile: Jessica and Luke get help from someone else in the neighborhood. Kilgrave gears up for a major test of powers against Jessica.
Note how each episode begins with "AKA," a reference to the series' original name, AKA Jessica Jones. This feels like a little nugget of evidence suggesting that showrunner Melissa Rosenberg probably didn't choose to change the title of her show since it's built into every single episode title.
A few quick observations from these synopses:
As expected, Mike Colter's Luke Cage and Rachel Taylor's Trish (the Wildcat of the Marvel comic book universe) looks to heavily involved in the series, with their names frequently coming up across the entire season.
Although the battle against David Tennant's Zebediah Kilgrave, a.k.a. the Purple Man, is the central plot of the entire season, there appear to be several 0ne-off cases. Episode nine, "AKA Sin Bin," sounds like it could be a Kilgrave origins episode, much like how the Kingpin got an entire hour dedicated to his childhood in the first season of Daredevil.
And what are we to make the synopsis for "AKA Smile," the season finale, which mentions our heroes getting help from "someone else in the neighborhood." Could Daredevil himself put in a brief appearance? After all, he is a someone else fighting crime in Hell's Kitchen. That would be a great way to begin establishing connections between the Netflix Marvel characters. After all, they eventually have to team up for that Defenders series.
The first season of Jessica Jones will arrive on Netflix on November 20, 2015. Prepare to binge. In the meantime, you can check out the trailer for the series below, just in case you've managed to miss it.