'Doctor Strange' Cast Keeps Getting Better And Better As Michael Stuhlbarg Enters Talks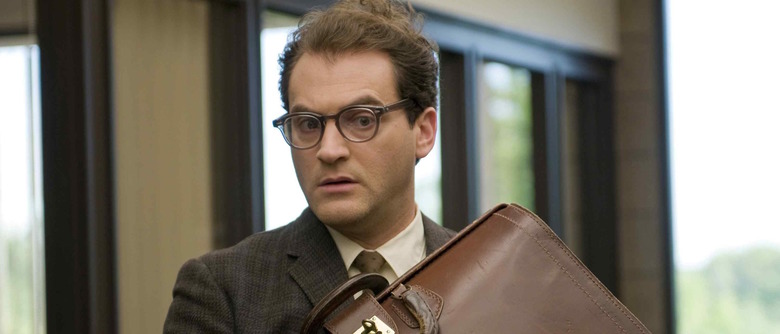 Hot off of starring opposite X-Men: Apocalypse's Magneto in Steve Jobs, Michael Stuhlbarg has booked his own big-budget superhero adventure. Stuhlbarg has entered negotiations to star in Marvel Studios' Doctor Strange, which stars Benedict Cumberbatch as the title character. Scott Derrickson directs. 
THR broke news of the Doctor Strange Michael Stuhlbarg casting. Cumberbatch leads the film as Stephen Strange, a hotshot surgeon whose brilliant career is cut short when he injures his hands. In a desperate attempt to heal himself, he stumbles across the discovery of magic. He eventually emerges as the Sorcerer Supreme, which earns him some enemies. Variety adds that Stuhlbarg will play Nicodemus West.
In the comics, Nicodemus West is the doctor who operates on Strange after his accident. Feeling guilty about his failure to repair Strange's hands, Nicodemus follows Strange all the way to Tibet. Nicodemus also learns a bit about mystical healing, but abandons his studies prematurely.
Stuhlbarg joins an already incredible cast that also includes Rachel McAdams as the as-yet-unnamed female lead, Tilda Swinton as Strange's mentor the Ancient One, and Chiwetel Ejiofor as the villainous Baron Mordo. Mads Mikkelsen is also believed to be in the movie. In all, it's a lineup more stereotypically suited for an Oscar-bound prestige drama than a big-budget superhero movie. Not that we're complaining.
Though Stuhlbarg has been acting onscreen for close to two decades, he was better known as a theater actor until his breakout turn in the Coen brothers' A Serious Man. Since then he's also popped up in Hugo, Seven Psychopaths, Lincoln, Blue Jasmine, and the HBO series Boardwalk Empire. He's best known for his dramatic roles (and he currently has a great one in Steve Jobs), but he's apparently not adverse to fluffier fare; he had a scene-stealing role in Men in Black 3.
Doctor Strange starts shooting in London this December for release on November 4, 2016.