'The Revenant' Posters Are All About Grit And Grime And Beards And Revenge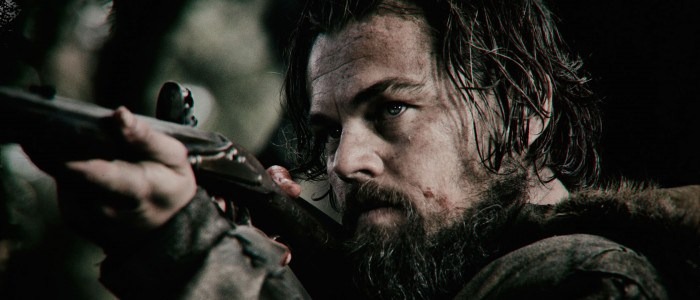 No 2015 film looks more miserable than The Revenant, and that's just how director Alejandro G. Iñárritu likes it. Even when he's making a supposed comedy like Birdman, no director takes greater delight in shoving an audience's face right into the literal and metaphorical muck. His movies are gorgeously made exercises in making you feel awful. Whether he cranks out masterpieces or one-note exercises in senseless misery is a debate that rages on.
New posters for The Revenant have shown up and yep, they are definitely selling a movie from Iñárritu. Of the three official one-sheets, one is beautiful and ever-so-slightly full of itself. The other two are more traditional, falling into the "big floating head" style of film poster, but they feature Leonardo DiCaprio and Tom Hardy looking completely and utterly miserable, so that's something.
Endure the harshness of the Revenant posters after the jump.
Like the trailers for The Revenant, these posters are all about the little things. Like how ice grows on a raggedy beard and how 19th century America looks cold and horrible and full of things than can kill you. Just stare into the eyes of DiCaprio and Hardy on those posters. They've seen some stuff. Bad stuff. And that's not all acting! The stories from the set of The Revenant are quickly becoming legend, so if the actors in the film look convincingly cold, tired, and miserable, just know that they had a little bit of help from a perfectionist, potentially mad filmmaker and the wilderness itself.
Also, you can't help but think of that third poster, the landscape shot, as another character poster. The harsh, unforgiving landscape looks to be just as much a character in the movie as DiCaprio's vengeful hunter. Here's the official synopsis for the film:
Inspired by true events, THE REVENANT is an immersive and visceral cinematic experience capturing one man's epic adventure of survival and the extraordinary power of the human spirit. In an expedition of the uncharted American wilderness, legendary explorer Hugh Glass (Leonardo DiCaprio) is brutally attacked by a bear and left for dead by members of his own hunting team. In a quest to survive, Glass endures unimaginable grief as well as the betrayal of his confidant John Fitzgerald (Tom Hardy). Guided by sheer will and the love of his family, Glass must navigate a vicious winter in a relentless pursuit to live and find redemption. THE REVENANT is directed and co-written by renowned filmmaker, Academy Award® winner Alejandro G. Iñárritu (Birdman, Babel).
In an Oscar season where there are few frontrunners and everything seems up for grabs, The Revenant feels like an early favorite to collect a bunch of golden statuettes come February. After all, it's no secret that DiCaprio would like to take a little golden man home, thank-you-very-much. If nothing else, cinematographer Emmanuel Lubezki may take home his third Academy Award. Just look at his set photos. Hell, just look at the trailer:
The Revenant arrives in limited release on December 25, 2015 for an Oscar-qualifying run. It will expand wide on January 8, 2016. Check out all of the new posters in the gallery below.