LOL: McDowell's From 'Coming To America' Is Real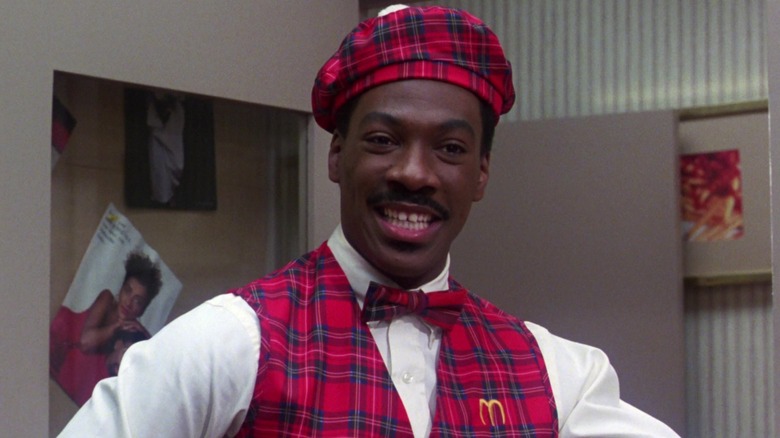 Paramount Pictures
There's plenty of people out there who will be dressed up in costumes tonight for Halloween, but you'll be hard-pressed to find a restaurant that dressed up for the holiday. However, residents of Chicago won't have such a difficult time finding out.
Anyone who has seen the Eddie Murphy comedy Coming to America knows that the restaurant McDowell's, which is totally not a ripoff of McDonald's at all, plays a key part in the movie. And now the restaurant is real (kinda). The hot dog joint known as The Wiener's Circle (famous for having employees verbally harass each other and the customers late at night) has been given a makeover for the weekend to look like and operate as a McDowell's franchise.
Red Eye Chicago reports The Wiener's Circle at 2622 N. Clark St. in Chicago, Illinois will operate as a McDowell's restaurant all day today in honor of Halloween. Here's some images of the awesome Coming to America McDowell's recreation which includes accurate uniforms:
Don't forget that McDonald's is nothing like McDowell's. While McDonald's has the golden arches, McDowell's has the golden arcs. McDonald's has the Big Mac, but McDowell's has the Big Mick. They both have two all-beef patties, special sauce, lettuce, cheese, pickles and onions. But McDonald's buns have sesame seeds. McDowell's buns have no seeds.
In addition, when you go inside, they have money from the bank of Zamunda, the homeland of Prince Akeem Joffer (Eddie Murphy's character from Coming to America), and a cutout of LeBron James (who is no longer sponsored by McDonald's) with a McDowell's logo on his jersey. There's also this employee of the month honor on the wall:
This is a pretty great thing for a restaurant to do on Halloween, so if you happen to be in the Chicago area, go check it out and hope that Samuel L. Jackson doesn't come in to rob the place.
By the way, if you go in, try asking for a Sexual Chocolate in place of a Wiener's Circle chocolate shake. But beware, when you order a Wiener's Circle chocolate shake, you're not going to get what you expect. And if you don't know what that's code for at the restaurant, you can check out their Wikipedia page to find out.