About Five Seconds Of 'Preacher' Footage Is Now Online, If That's Your Thing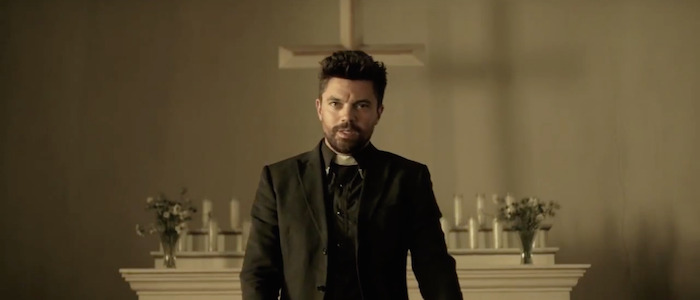 Yes, teasers for trailers are the bane of all existence. Yes, nothing is more irritating than watching a commercial for an advertisement. And yes, realizing that the "First Look!" at a project that has many people very excited only amounts to a few seconds is deeply frustrating. So know that the first official look at footage from AMC's upcoming adaptation of Garth Ennis and Steve Dillon's Preacher is online, but also know that it's literally about five seconds and that a proper trailer is set to arrive in just a few days.
Let's face it, though: you're probably going to watch this anyway. Take a deep breath, ask the deity of your choice for forgiveness, and watch the first Preacher footage after the jump.
Orchestrated by Seth Rogen, Evan Goldberg, and Sam Catlin, Preacher is AMC's attempt to bring one of the most notorious and acclaimed comic book series of the '90s to life. They've achieved where countless other filmmakers, movie studios and TV networks have failed. So as you watch the few precious seconds of footage below, understand that this is the result of countless other creative minds failing. This is the version that got made. Whether that's a good thing or a bad thing is a question for another day, but unlike most of the major characters in Preacher, we have faith.
The big moment in this trailer is our first clear look at Dominic Cooper as Rev. Jesse Custer, the small-town Texas minister who merges with an otherworldly entity called "Genesis," gifting/cursing him with "the word of God," i.e., the ability to command others to do whatever he wants. If you go through that quick blast of footage from by frame, you'll find a few other tantalizing images: a man plummeting from a plane (presumably Jesse's Irish vampire buddy, Cassidy, played by Joseph Gilgun), an unknown character covered in blood, a church congregation, an exploding helicopter, a few screaming faces, and a bar fight (because Texas). Conspicuously missing: Ruth Negga as Tulip, Jesse's sharpshooting former flame.
Like we said: not much, but at least it's proof that this show actually exists and isn't some prank Rogen decided to pull to piss off the nerds.
The full trailer for Preacher, which will hopefully contain all kinds of substantial footage, plot points, and character moments, is set to premiere this Sunday, November 1, during The Walking Dead. If you don't watch AMC's ever-popular zombie extravaganza or have gotten with the times and exist solely on streaming, we'll have the trailer up (complete with commentary) soon after it airs.
No official release date has been set, but Preacher is expected to premiere sometime in the mid-2016.