Report: Sandra Bullock To Lead All-Female 'Ocean's Eleven' Reboot; Gary Ross To Direct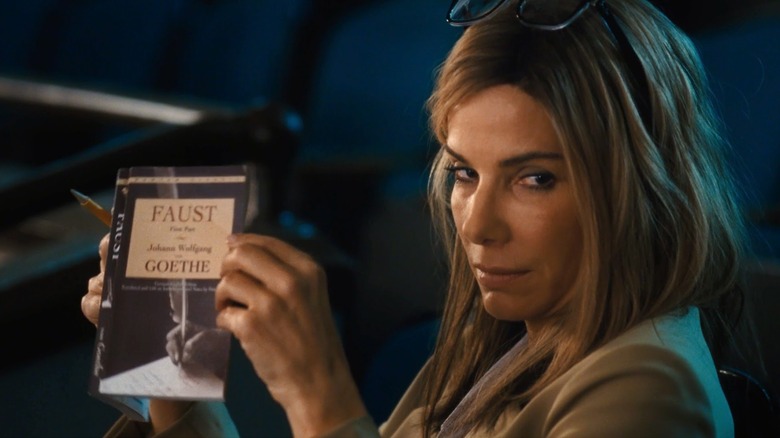 This weekend sees the premiere of Our Brand Is Crisis, starring Sandra Bullock in a role originally written with George Clooney in mind. Now she's going one step further, and looking to take over a franchise that actually used to be his.
According to a new report, Bullock will lead an all-female Ocean's Eleven film, with Gary Ross (The Hunger Games) directing. Clooney, for his part, doesn't seem to mind — he's helping produce it. Read about the female Oceans Eleven movie after the jump. 
ThePlaylist broke news of the female Oceans Eleven movie. They've got a generally good track record, and aren't given to spreading baseless rumors, so we consider them to be pretty trustworthy. That said, no official announcement has been made from any of the involved parties as of yet.
According to their sources, Clooney, Steven Soderbergh, and Jerry Weintraub got the ball rolling on the female Ocean's Eleven project last year. It hit a speed bump when Weintraub – who produced the Soderbergh-directed 2001 film — passed away, but now it's back on track with Olivia Milch (Queen & Country, Little Women) is writing the screenplay.
No plot details have been revealed, and it's not yet clear whether the new Ocean's Eleven will be a remake, reboot, sequel, prequel, spinoff, reimagining, retelling, or whatever new method Hollywood has come up with to extend a dead franchise. The site's sources say, however, that there's a chance Clooney could cameo as Danny Ocean.
A female-led Ocean's Eleven is very much keeping in line with current trends. The Ghostbusters franchise was in limbo until Paul Feig pitched his female-centric reboot, and recently we heard Road House was getting remade with Ronda Rousey as the new Patrick Swayze. We've also seen some smaller roles get gender-swapped lately, like when Tilda Swinton signed on to play the Ancient One in Marvel's Doctor Strange.
Bullock tends to be choosy about her roles, because she can definitely afford to be. She had two movies out this year, the aforementioned Our Brand Is Crisis and the animated adventure Minions. Before that, she was last seen with her buddy Clooney in Gravity.
No word yet on a start date, but Ocean's Eleven is expected to be Ross' next project after The Free State of Jones, due out in May 2016.