'Alvin And The Chipmunks: The Road Chip' Trailer: Munks Get Put On The No-Fly List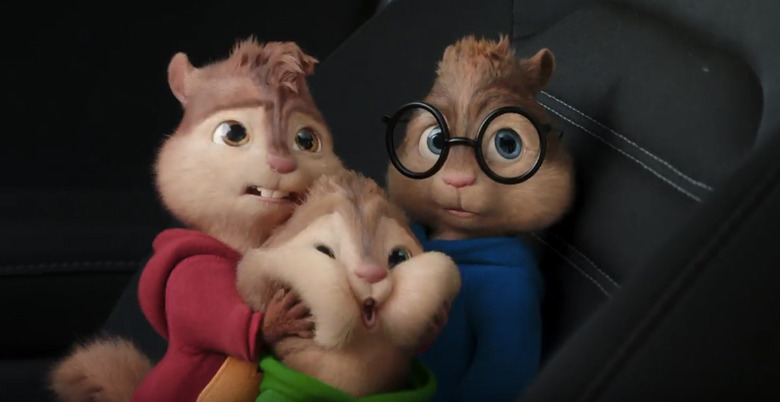 Even though it seems like everyone will be flocking to theaters the weekend of December 18th to see Star Wars: The Force Awakens, we must remember that there are plenty of people who just aren't interested. Some might prefer to see the Tina Fey and Amy Poehler comedy Sisters, or have younger kids who aren't old enough for Star Wars, making the new Alvin and the Chipmunks sequel the more appropriate choice.
And for those parents who may be forced into the latter, a new Alvin and the Chipmunks The Road Chip trailer has surfaced, showing off all the childish humor that will be coming just before Christmas this season. Beware of pizza toots.
Here's the new Alvin and the Chipmunks The Road Chip trailer from 20th Century Fox:
While this looks like a sequel lacking any semblance of comedy that works for kids and adults, I do have to give credit to the producers for getting some fun supporting stars to pop up here and there. For example, you'll see Orange Is the New Black star Uzo Aduba discovering some chipmunk poop at airport security. And Tony Hale gets attacked by animals, landing the chipmunks on the no-fly list like the squeaky terrorists they are.
And of course, Jason Lee is back to cash a paycheck as Dave, with Father of the Bride star Kimberly Williams-Paisley popping up as a new love interest with a son (Josh Green) who just doesn't like the idea of the talking and singing chipmunks becoming part of his family. Thus the scheme to break up their parents begins, resulting in plenty of wackiness.
I'll never understand the appeal of manipulating singing into high-pitched chipmunk voices, or for that matter, of using actors like Justin Long, Jesse McCartney and Matthew Gray Gubler to voice them. But if that's your thing, there are covers of "Uptown Funk" and that children's classic "Baby Got Back" in the trailer for you to jam to on your next road chip. If for some reason you need to see more from the sequel, check out the previous trailer here.
This time around, after a series of misunderstandings, Alvin, Simon and Theodore come to believe that Dave is going to propose to his new girlfriend in New York City... and dump them. They have three days to get to him and stop the proposal, saving themselves from losing Dave.
Scripted by Mrs. Doubtfire screenwriter Randi Mayem Singer and directed by Walt Becker, Alvin and the Chipmunks: The Road Chip stars Jason Lee (Mallrats, "My Name Is Earl") as Dave Seville and will again feature the voices of Justin Long (Tusk, Drag Me To Hell), Matthew Gray Gubler ("Criminal Minds," (500) Days of Summer) and Jesse McCartney ("Army Wives," "Young Justice") as the headlining chipmunks.
Alvin and the Chipmunks: The Road Trip arrives on December 18th.